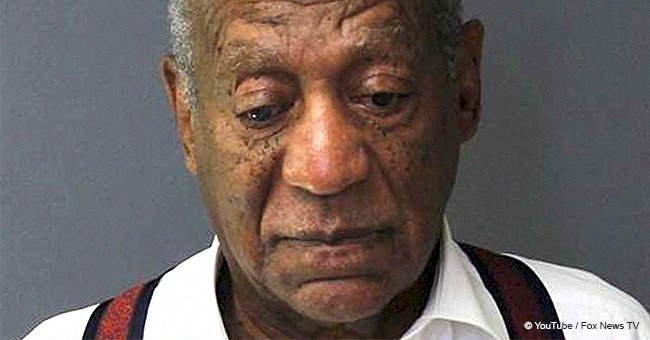 Bill Cosby's first mugshot after being sentenced to prison has appeared on the Internet
On Tuesday, Pennsylvania authorities released Bill Cosby's first mugshot. The actor was sentenced on the same day to 3 to 10 years in state prison after his sexual assault conviction.
Cosby was sentenced at a Montgomery County courtroom. The sentencing came 5 months after he was found guilty on 3 counts of aggravated indecent assault for drugging and sexually abusing Andrea Constand.
In his mugshot, Bill Cosby, 81, could be seen looking downward instead of at the camera. He appeared quite sombre and defeated.
Andrea Constand is a former Temple University employee who described Cosby as a mentor who used their relationship to assault her. She said the incident took place at his mansion in Elkins Park, Pennsylvania, in January 2004.
For more on this story go to our Twitter account @amomama_usa. She was only one of the dozen women who accused Cosby of similar incidents.
In his defence, the actor denied their claims and vowed to appeal his conviction in Constand's case. She was the only one whose case resulted in criminal charges due to the statute of limitations.
At the time, O'Neill said:
"This was a serious crime. Mr. Cosby, this has all circled back to you. The day has come, the time has come... No one is above the law, and no one should be treated differently or disproportionally."
Earlier in the day, the judge declared Cosby a "sexually violent predator." That means the star would have to register as a sex offender and undergo monthly counseling for the rest of his life.
Earlier this year, Cosby's first trial ended in a hung jury. The actor's sentence includes a $25,000 fine and requires him to pay for the cost of his prosecution.
After the hearing, Cosby's publicist, Andrew Wyatt, had this to say about the terms of the sentence which he called "the most racist and sexist trial in the history of the United States:"
"They persecuted Jesus and look what happened. I'm not saying Mr. Cosby's Jesus but we know what this country has done to black men for centuries."
Please fill in your e-mail so we can share with you our top stories!