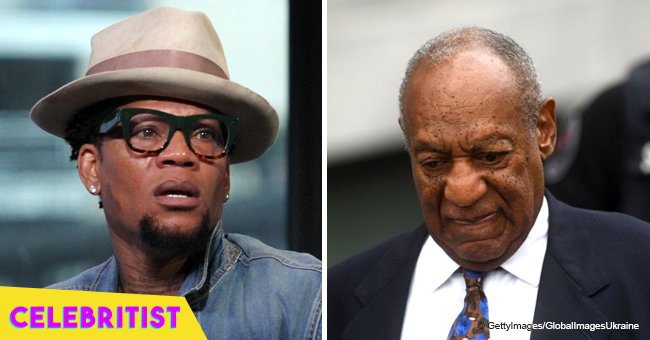 DL Hughley sparks debate after claiming injustice over Bill Cosby's sentencing
DL Hughley raises an important issue following Bill Cosby's sentencing. It sparked debates that also involved President Donald Trump.
While many celebrated Bill Cosby's recent sentencing for the sexual crime he committed in 2004, DL Hughley was equally happy but he also had reservations about the inequality of the justice system.
Cosby was sentenced this week to three to ten years in prison after he was found guilty of drugging and sexually assaulting Andrea Constand in his home 14 years ago. Many lauded the court's decision proving that justice had been served. However, Hughley had his reservations seeing that there were others also worthy of being sentenced who remain in high positions in the country.
In a tweet he posted after Cosby's sentencing, Hughley wrote,
"#Cosby is going to jail #Kavanaugh is getting promoted! #TeamDl"
He explained his tweet further by posting more tweets questioning the varied treatment towards accused sexual predators citing President Donald Trump and Supreme Court nominee Brett Kavanaugh" as examples.
"#Cosbygets 3-10 years for sexual assault. #Trumpadmits on tape to sexual assault against women & he becomes president. #Kavanaughhas been accused & yet he's up for #SupremeCourtJudge. If we're gonna convict sexual predators to the pen, shouldn't we convict them all? #TeamDl"
In another tweet, he cites other famous personalities who were accused of sexual assault but remain outside bars.
Hughley's tweets sparked debates, most of them agreeing with his sentiments.
The response to Cosby's sentencing has been tremendous. A lot of people restored their belief in the justice system and saw that Cosby got what he deserved. However, Stevie Wonder had a more difficult time accepting his friend's fate and even wished him God's graces. When TMZ caught up with him at LAX in the heels of Cosby's sentencing, he told the online source he was praying for the disgraced comedian who he also noted had great contributions to the industry.
Cosby was categorized as a sexually violent predator when his sentence was drawn. He was escorted in handcuffs out of the courthouse and was booked into Montgomery County Correctional Facility where his mugshot was taken. A sad Cosby registered in the photo with his head slightly forward and eyes looking down. Cosby will be transferred to SCI Phoenix, a state prison in Collegeville where he'll be serving his sentence as a registered sex offender.
Please fill in your e-mail so we can share with you our top stories!