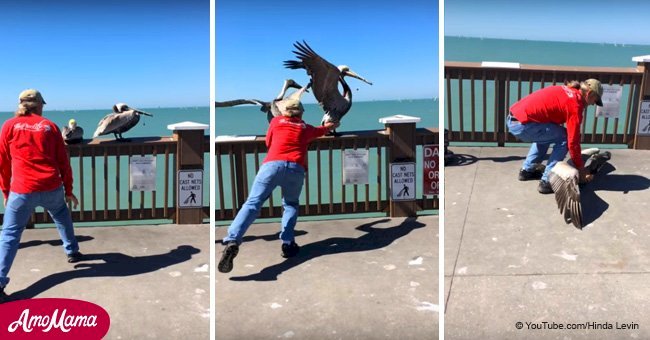 Man catches pelican with bare hands to save it from an ultimately cruel fate
A man catches a pelican with his bare hands in order to save it from starvation.
A Florida man was moved by compassion when he saw a pelican on Pier 60 at Clearwater Beach whose beak had become hopelessly wrapped shut in fishing line.
Realising that the animal would quickly starve, the intrepid hero caught the huge bird with his bare hands. Having subdued the pelican, he solicited the assistance of another man who carefully started to unwrap the fishing line.
The incident was captured on video and posted to YouTube by Hinda Levine, and it has garnered nearly 1,5 million views.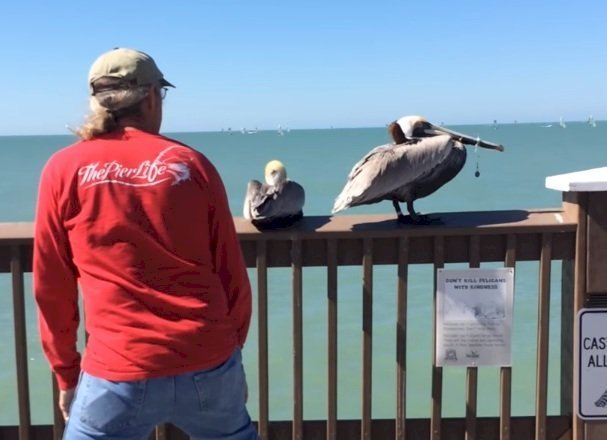 Source: YouTube/Hinda Levin
BROWN PELICANS ARE A COMMON SIGHT IN FLORIDA
The brown pelican is a species endemic to Florida and is a common sight on the Sunshine State's shores. It feeds primarily on fish, but occasionally eats amphibians and crustaceans.
These birds feed by diving into the ocean and scooping up water along with their prey in their deeply pouched beak.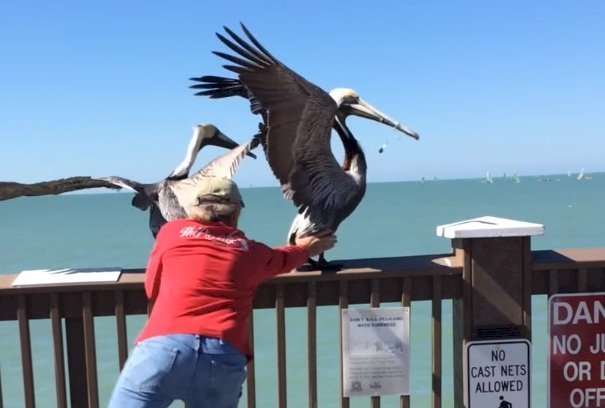 Source: YouTube/Hinda Levin
A COMMON OCCURRENCE THAT KILLS MANY PELICANS
The pelican that was rescued in Clearwater Beach is not an isolated case. Every year many pelicans die after becoming entangled in fishing lines and nets or having their feet or beaks pierced by fishing hooks.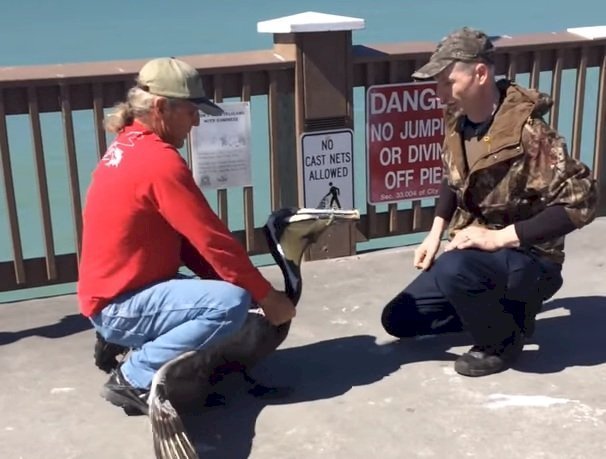 Source: YouTube/Hinda Levin
A GENTLE TOUCH SOOTHED THE PELICAN
In the video the man in a red t-shirt can be seen to tenderly soothe the frantic bird, even as his fellow rescuer carefully unwraps the meta fishing wire from around the bird's beak.
ANOTHER FOWL RESCUE IN FAR AWAY IDAHO
Winter in Idaho is a far cry from sunny Florida, but it was the scene of yet another bird rescue.
Nelson Wilson was out feeding his horses on New Year's day when he saw a house finch frozen onto a steel fence near his heated water tank.
The poor bird had swooped in to drink the warm water and got his feet wet. When he landed his feet froze instantly to the fence in the sub-zero temperatures.
Wilson first tried to warm the frightened bird's feet with his hands, but then resorted to blowing his warm breath on the finch's tiny feet until the ice melted. Fortunately, the strategy worked and the tiny bird flew away happily.
In a related story, a man was removing rubble from a garden when he found five abandoned puppies under a mattress, only to discover they weren't puppies.
Please fill in your e-mail so we can share with you our top stories!