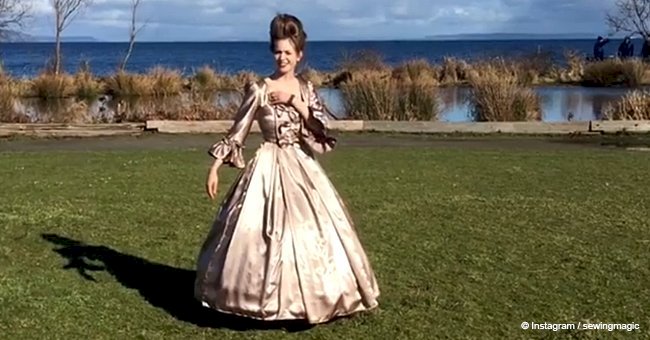 Woman's ball gown makes a magical transformation as she spins
A young English teacher from Seattle created a magical ball gown with little to no training in sewing, and the result had people all over the country in awe.
Ivy Thompson is a fan of the 18th-century fashion. She grew up watching her mother and grandmother sewing and making beautiful creations with fabric, so, when she heard about a ball dance taking place on her city, she made it her mission to have the most beautiful dress at the event.
Even though she had never taken an official sewing course, Ivy was determined to bring her creation to life, and she did it amazingly.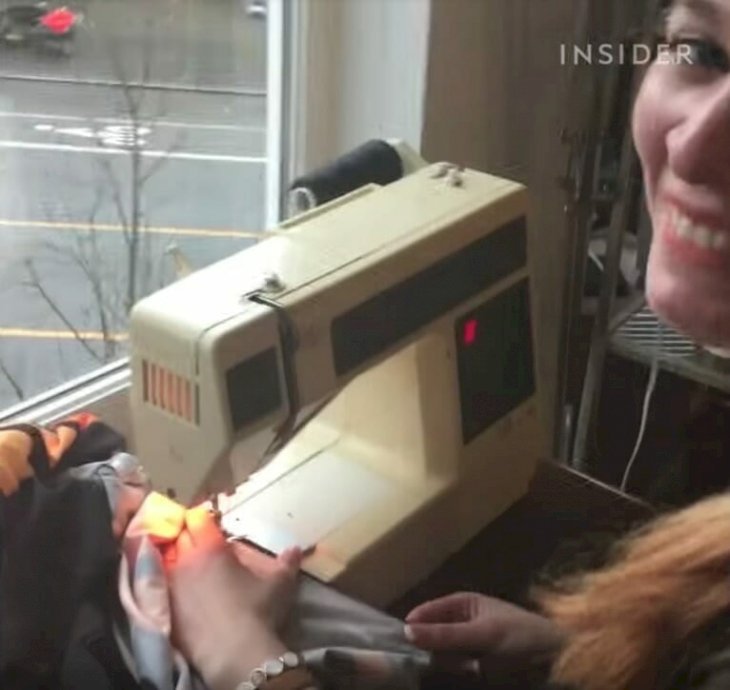 Source: YouTube/INSIDER
The result was a gorgeous and intricate design that goes from silver ball gown to a monarch butterfly with just the pull of a cord.
The first dress features long ruffled sleeves and some bows on the front, a classic dress inspired by the 18th century. But after Thompson pulls a cord on the front, her sleeves disappear, falling on her skirt to create layers that evocate a butterfly's wings.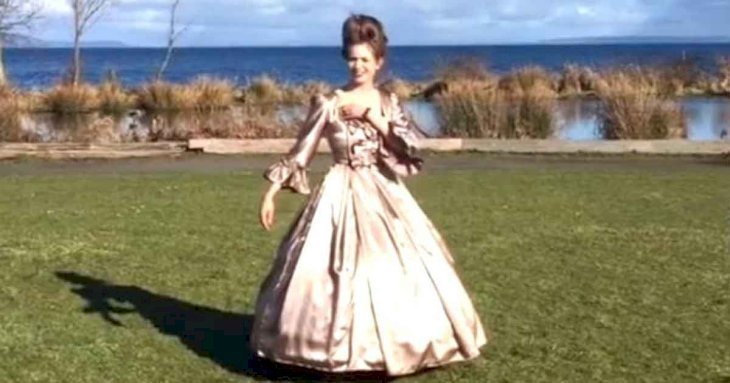 Source: YouTube/INSIDER
Spinning to let the transformation shows only adds more magic to the garment, as Ivy got her inspiration after attending a production of "Cinderella" at Disneyland.
Follow us on our Twitter account @amomama_usa to learn more.
PEOPLE'S REACTIONS TO THE VISUAL MAGIC
A video report by Insider has garnered over 1 million views, with people praising Ivy's sewing abilities despite her lack of proper training. On her Instagram account, several followers had filled her comment section, whether asking her to teach them how to make dresses, asking for costumed designs, or encouraging her to keep on doing a great job.
"This would be an amazing idea for a wedding dress! Do you take custom orders?" asked one user. And another added "One word: "magical." So beautiful and it's very amazing," and a third one said, "Wow this really helped me to understand the concept of transformation of garments..thank you..this is really beautiful."
Ivy's creations are all just beyond beautiful. She has made Disney Princess' dresses; fairy inspired gowns, gothic designs, and even one dress with led lights to emulate the night sky.
ANOTHER MAGICAL DESIGNER
It's impressive what people can do with a lot of creativity, even if they have a low budget, and while Ivy is still a designer on the rise, there's a father of three that has become quite popular among little girls for his Disney princess' transformative designs.
Nephi Garcia, a Filipino man, known as "Daddy Designer" caught the attention of the world when he started to make beautiful, magical dresses for his daughter. Now, a few years later, his business has expanded to making dresses for adults, including cosplays, wedding dresses and more.
His wife, Bethanie Garcia, serves as his model and inspiration, as she's usually the one donning his intricate designs and making gorgeous videos to emulate movies scenes and more.
The magical dresses are priced from $299 up t $1800, depending on the piece and design.
Please fill in your e-mail so we can share with you our top stories!