Horrifying video of tsunami hitting the coast while sweeping away everything in its path
Indonesian people are facing a tragedy after a 7.5 magnitude earthquake caused a tsunami. The incident occurred on Friday on the Indonesian island of Sulawesi.
Videos posted online have shown people running and screaming as high waves rush over the beach. It's been reported that a festival was being set-up on the beach before the tsunami hit.
So far, at least 844 people have been confirmed dead but more reports are expected. Indonesian authorities said they would bury victims in mass graves for fear of disease spreading.
In Palu, Sutopo Purwo Nugroho, the spokesman for the National Disaster Mitigation Agency had this to say:
"Communication is limited, heavy machinery is limited... it's not enough for the numbers of buildings that collapsed."
For more on this story go to our Twitter account @amomama_usa. On Friday, a tsunami warning was issued after a 7.5 magnitude earthquake hit.
However, at one point it was removed, yet it isn't clear whether it was still in place when the waves hit. Video footage shows people running as 6m-high waves hit the beach.
Joko Widodo, the Indonesian president, visited the region where he urged a search for survivors. Meanwhile, Indonesia's justice ministry has reported 1,200 escaped convicts.
Last night, President @jokowi authorized us to accept international help for urgent disaster-response & relief. I'm helping coordinate help from private sectors from around the world. Pls message me at my social media accounts or email: tom@bkpm.go.id#PaluTsunami #PALUDONGGALA

— Tom Lembong (@tomlembong) October 1, 2018
The prisoners escaped from 3 different detention facilities in the Sulawesi region following the earthquake and tsunami. Rescue missions have been delayed because of blocked roads, a damaged airport, and broken telecommunications.
People have been trapped under debris in places like the Roa Roa Hotel. Thalib Bawano, a volunteer, shared that 3 survivors had been rescued from the hotel rubble.
More than 50 people may still be trapped. Bawano added:
"We also heard voices at several points, including a child. They were asking for help, but they are still there till now. We gave them motivation... so they can have spirit because they are trapped between life and death."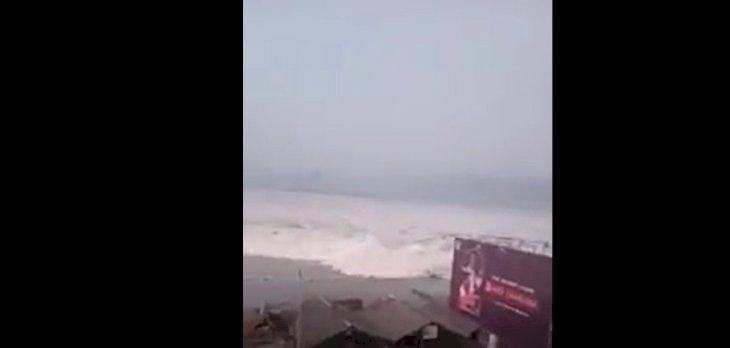 The 7.5 magnitude earthquake occurred at a depth of 6.2 miles just off the central island of Sulawesi. The quake was strong but shallow and with more lateral than vertical movement.
It wasn't the kind of tremor that usually sets off tsunamis.