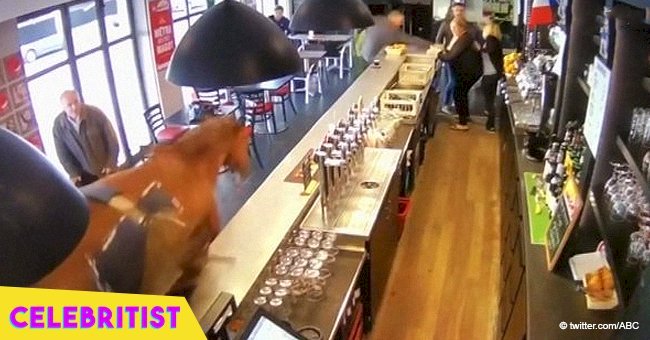 Race horse charges into sports bar forcing customers to flee in panic
A racehorse managed to escape its owner and scared customers at a nearby betting bar in the small town of Chantilly, France. The filly went into the sports bar knocking chairs and tables while the bar staff looked astonished at the animal.
It was a peaceful day at the French establishment, with people enjoying their drinks while getting ready to enjoy the next horse race on television, when one of the objects of their bets burst into the place, causing panic among the customers and staff.
The young horse entered the sports bar running and bucking its legs, stumbling over some chair and tables with a saddle still attached to her back. Customers can be seen fleeing the place and running in panic to escape from the equine, who reached the end of the bar, turned around, and went out once again.
"There was quite a panic. I still can't quite believe it happened," bar owner Stephane Jasmin told Reuters.
And continued:
"She pushed the door open and raced straight for the betting corner. Then the filly turned around, breaking a table and chairs. We've never seen anything like it."
The filly's trainer, Jean-Marie Beguigne, told the French newspaper Ouest France that the horse had dumped her rider at the Chantilly Race Course stables, less than a mile away from the bar.
"Between the track and the stables, her rider fell off. The filly escaped by going on to the road, and crossing a roundabout before entering this bar. It is all quite exceptional."
The young horse has a fondness for escaping and never misses an opportunity to do it. Luckily, there were no humans or equines injured, and the incident just will be a funny story the bar owner will tell his customers.
Chantilly is known for the historic "Château de Chantilly," and the estate's "Great Stables," in which some scenes of the 1985 James Bond film "A View to a Kill" were shoot.
HORSES ARE NOBLE CREATURES
While this young filly might have scared people away, the world is filled with more lovely interactions between horses and humans.
Such is the story of Kirk Hance and a pony named Tobias. Hance and his wife recently moved to a farm in Fort Worth to have more space for their rescued animals. The couple decided to expand their rescued species by adding horses to the family.
Kirk found a Horse Auction site where people purchases the animal to be later slaughtered in Mexico and Europe. Horrified by what he saw, he and his wife decided to give two of the horses a better life. One of the animals was a pony named Tobias, who showed scars of abuse and was severely depressed.
Tobias wasn't used to receiving love from humans, so it took him two days to settle down in his new home. A touching video of the moment Tobias finally started to trust Kirk melted hearts all over social media.
"I knew I needed to get down on his level and just show him I cared for him," said Hance.
He described what led to the incredibly touching video:
"He came up to me, and what started as me just petting him softly and reassuring him it was OK, turned into a full embrace. I just sat there for a few minutes holding him. He seemed to relax and almost fell asleep as if he knew he was safe."
Please fill in your e-mail so we can share with you our top stories!