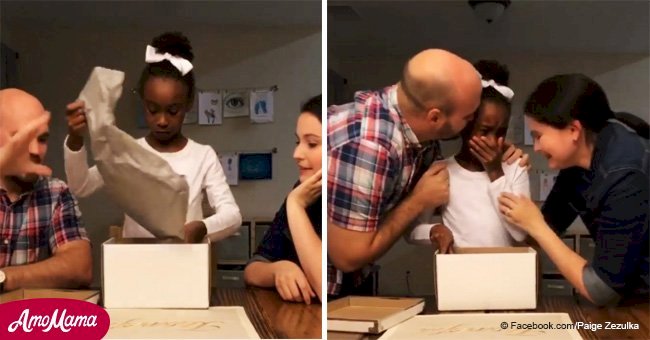 Foster child opens a box on her birthday, reads a life-changing letter, and bursts into tears
A 10-year-old girl named Ivey was finally adopted by her foster parents, who, as a birthday surprise, also adopted her two siblings.
After spending years in foster care, Ivey finally saw her dream come true when she received the amazing news from her new mother and father.
The revelation was filmed and posted on Facebook by Ivey's mother, Paige Zezulka, who couldn't help but share the amazing news with the world.
According to Paige, the 10-year-old had been praying every day to be adopted and seeing the look on her face when she realized that she would have a family was the best feeling ever.
Ivey, along with her brother and sister, spent a total of 1,128 days, over three years, in foster care, and that is not healthy for a child.
Children need love and stability, and that can't be possible with the uncertainty of adoption hanging over their heads.
With the adoption of the three siblings, the Zezulka family became a party of five, and the new parents couldn't be more excited about their future with the children.
In the Facebook post, Paige claimed that 'adoption is amazing' and that they wanted other people to know that 'adopting older children and sibling groups can be the most beautiful adventure' they can ever have.
Ivey's story was a success and the post has already gathered over 17 million views and over 33,000 comments. But she Ivey wasn't the only girl who found out that she was being adopted.
10-year-old Hayley also had the immense joy of finding out that she now had a mother in a woman named Bridgitte, who broke the news to her with a personalized necklace and a certificate.
After inspecting the necklace, which had the words 'my daughter holds my heart' on it, Hayley started reading the certificate and couldn't help but cry once she realized that she now had a place where she belonged.
Please fill in your e-mail so we can share with you our top stories!