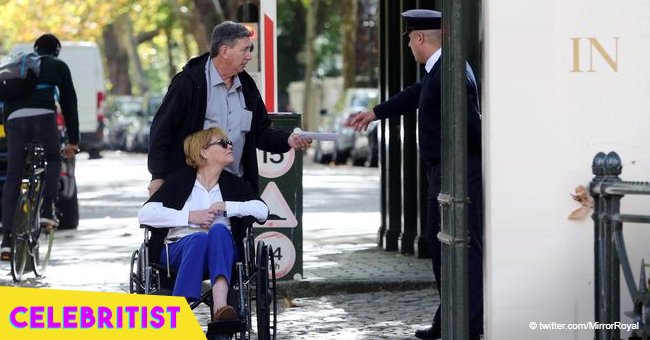 Meghan Markle's sister breaks silence after she was 'turned away' from Kensington Palace
Samantha Markle was reportedly shunned by security when she dropped by unannounced in Kensington Palace hoping to have a face to face with her half-sister Meghan Markle. But while she never got the chance to see Meghan, she said the letter she handed to the guard after accomplished her mission.
If Meghan Markle's half-sister Samantha Markle thinks she could drop by Kensington Palace unannounced and expect to be let inside, she's wrong. While in London hoping to make amends with the Duchess of Sussex, Samantha learned firsthand that she would never get the chance to see Meghan in person nor speak to her. Instead, she was allowed to hand a letter for Meghan to the guard. For Samantha, that was a sure sign her half-sister would get to read its contents.
MENDING FENCES
Samantha has been working her way towards mending her rift with Meghan since stepping foot in the British capital recently. She appeared live on "Jeremy Vine" to apologize to her half-sister for the scathing words she's hurled against her in the past. According to her, she was hurt when Meghan didn't invite their family to the royal wedding which prompted her to retaliate. Today, she's hoping Meghan would see her remorse and finally speak to her in person to put the past behind them and move on.
NO ENTRY
However, Samantha's plans aren't playing the way she hoped they would. She dropped by Meghan's home in Kensington Palace unannounced on Saturday hoping to see her face to face. Instead, she was turned away by palace security.
Samantha was photographed on a wheelchair assisted by her partner outside the palace gates in what appeared to be another embarrassing snub. When she realized there was no way she was going to be allowed to enter the property, Samantha handed a letter for Meghan to the guard instead.
A DENIED REQUEST
Days prior to her visit, Samantha allegedly wrote the palace asking to be allowed to see her half-sister. In the letter, she reportedly gave them an ultimatum – to arrange a face to face encounter with Meghan or she would drop by the palace unannounced. It seems her request wasn't honored seeing she appeared at the royal property as she said she would.
Having been shunned away, Samantha stayed outside the palace and decided to buy royal merchandise nearby including masks of Meghan and Prince Harry.
WHAT'S IN THE LETTER
Following the royal snub, Samantha, who isn't used to staying silent tweeted about the letter she handed to the guard, certain it drew curiosity.
"Everybody would love to know what's in that letter."
Following her tweet, she gave an exclusive interview to Daily Mail TV opening up about whatshe was really doing outside the gates of Kensington and what was in the letter she gave. She said went there specifically to deliver her letter she described as "an olive branch." She also said she was very polite and never demanded to see Meghan. She even described her encounter with palace security as a pleasant experience.
"I was very respectful and I went there to deliver a letter. Nobody was turned away, nobody was disrespectful and it was a wonderful experience. It was a nice experience and nobody was mean to me at all, I was quite surprised."
Samantha believes her mission was accomplished by handing her letter for Meghan. Though she didn't disclose what she wrote, she said she just wanted "to set some records straight" and deliver "the truth about a lot of things." She said most of the contents of the letter were about her father and her hopes for a reconciliation between Meghan and him.
MESSAGE FOR MEGHAN
During the interview, she also addressed Meghan directly and reminded her of how she was a woman and life is short to be holding a grudge.
"Let's just cut through all the cr*p, you're a woman, life is short. I believe you have it in your heart to do the right thing here.
"You know Dad loves you, you know he's been there for you more than anyone, so don't let this public monster and misperception that he's like a sperm donor dad trying to be involved all of a sudden.
"Come on Meg, have a heart, I know you're a woman, I know you have a heart in there."
THEIR PAINFUL PAST
It shouldn't come as a surprise that Meghan would refuse to see or speak to Samantha. The woman has made it her life's work to bash her half-sister every chance she could get ever since the royal wedding. She accused Meghan of being a social climber who isn't suitable to be a royal. She also threatened to expose her in her memoirs. She labeled Meghan a "DuchAss" and even called Harry a "wuss." She also accused Meghan of being an ungrateful daughter to their father.
Samantha wielded every hurtful word in the book to malign her half-sister and all she got was silence. To this day, despite her efforts to patch things up, she's still faced with Meghan's resounding silence.
Please fill in your e-mail so we can share with you our top stories!