Little boy went viral for captivating churchgoers with his voice and moves during worship
A young boy who was gifted with a fantastic voice and outstanding confidence, named Caleb Tyler Serrano, became an Internet sensation after a video of him singing in the church went viral.
In the clip uploaded to Willie Jones' Facebook page, Caleb, who was four years old when it was recorded, appeared wearing black shoes, beige pants, a light shirt, a striped tie, and a navy blazer.
The boy was singing and dancing in front of the band in the church, feeling the rhythm just as if he was a grown, experienced musician. People from the church couldn't do anything but record and enjoy his performance.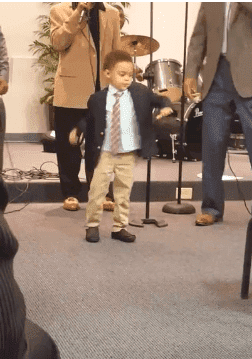 CHEERING HIM UP
Several churchgoers stood up and clapped along with the boy and the choir's music, letting them know that they were having a wonderful time with Caleb's show.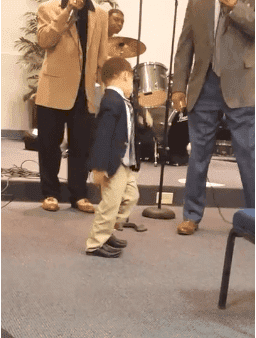 At the moment, the video has more than 3.6 million views, and it has been shared more than 33,000 times. It is not the only clip showing Caleb dancing and singing at a church, though.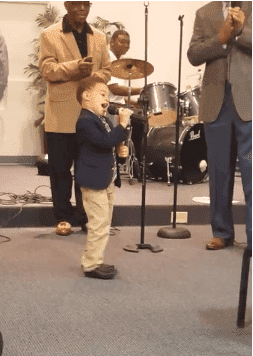 REPEATING HIS PERFORMANCE
A second video uploaded to the YouTube channel of the boy's father, Richard Serrano, portrayed Caleb wearing a similar outfit singing in another church. That clip has almost 900,000 views since it was released in April 2016.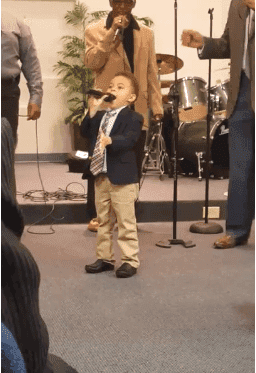 GOING TO TV SHOWS
The boy's presentations were so popular that he was later chosen to appear on "Little Big Shots," the show where Steve Harvey interviews young artist like Caleb.
FEELING LIKE A MOVIE STAR
The young boy revealed that he felt like a movie star as meeting Steve, one of the "Original Kings of Comedy," was great. Caleb added that he loved gospel music and singing for Jesus.
At the moment, he has been leading worship at Ebenezer Baptist church for three years already. Apart from that, he joined the children's choir to improve his singing skills.
DANCING DURING HER PERFORMANCE
Caleb is not the only child who became famous after singing at the church as Loren Patterson did the same during her first time as a member of the First Baptist Church Choir.
The girl's mother, Jennifer, got her camera ready to record the first time her daughter stood in front of an audience, but she never expected to see Loren "breaking the protocol" and dancing to Zach William's "Old Church Choir."
NOT A SURPRISE
Jennifer confessed that even though she realized there was something odd with the performance, she was so excited that she didn't notice what was it up until watching the video in her home.
After posting the clip, Jennifer was contacted by several people telling her that it had changed their lives by giving them the conviction to keep on living.