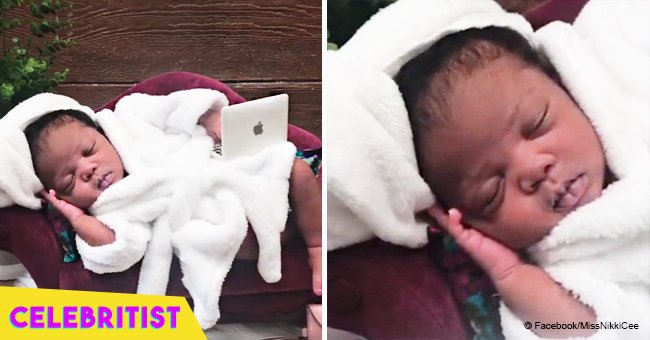 Photo shoot of baby portraying how people feel after a hard day at work goes viral
Photo shoots for newborn babies wearing different sets of props have become a trend in the last year, but this photographer from Washington took it to another level, and the result became viral. People can't handle the cuteness of seeing a baby being so "relatable" to adults.
Nikki of NCee Photography, a D.C based photographer, has gone viral after posting an adorable video of her photo shoot with 16-day-old baby Harper Fevrier. The clip shows the sleeping baby laying on a mini red couch, wearing a white bathrobe and with a miniature apple laptop resting on her lap.
"Sis is a whole mood," she captioned the clip, as she explained that the general idea of the session was to portray how adults feel after a long day at work.
Nikki explained to ABC13 that Harper's parents had no idea about the setting she had chosen for their baby. "I typically always try to find cute set-ups for the babies, and it has become a staple for my (now) full-time photography business," Nikki said.
The video has earned over 1.7 million of views until now and has been shared 35k times. However, this is not the first time that Nikki goes viral for one of her newborn shoots.
NIKKI'S FIRST VIRAL PHOTO SHOOT
A few years ago, Kristin Sampson contacted Nikki to make a special photoshoot with her newborn girl Kara, and she wanted to include her late mother on in somehow. Both women came with the idea of adding a portrait of Sampson's mother in the photoshoot, and the final result stole hearts all over social media.
The pic showed the newborn baby wearing a pair of wings and resting on her belly next to a photo of her late grandmother. She was also holding a pearl necklace that the woman used to wear.
Nikki and Kristin were interviewed on FOX 5 News, where they explained how everything came together and shared their plan for creating annual fundraising to help charity and bring together people that are going to a similar grieving but joyful process.
Is clear that Nikki has an incredible eye for photography, and now that two of her session have gone viral, she'll surely keep a long waiting list of clients trying to book her to capture their special memories.
A SIDE BY SIDE COMPARISON BEFORE AND AFTER BABIES
On a similar note, a father of two earned nationwide attention with an incredible initiative started on Instagram.
After posting a side to side comparison photo of himself before and after having kids, Mike Julianelle received a message from another mom suggesting him to ask for submissions for other parents on his account, Got Toddlered.
Julianelle, who has a 7-year-old and a 2-year-old, has been sharing the funny side to side pics he gets from fellow parents that show how kids have changed their facial expressions, hobbies, and even the way they take a nap.
He told the Huffington Post:
"I've gotten a lot more of these than I did of the typical 'my toddler destroyed something' memes I was previously receiving! Probably because taking a photo of something your kids destroyed is less of a priority than cleaning it up. And it's much easier to clean a mess than it is to fix your own face!"
He also explained that the posts are meant to be lighthearted, and no one is seriously saying their kids ruined their life. "Kids are the worst best thing that's ever happened to us, and if we don't laugh about the havoc they wreak we'd have to cry instead, and I'm not a crier," he concluded.
Please fill in your e-mail so we can share with you our top stories!