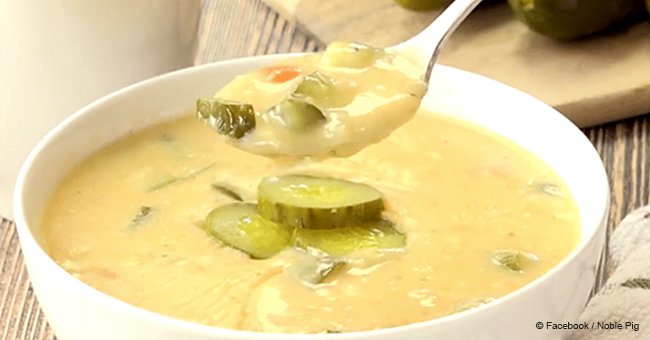 This absolutely delicious dill pickle soup recipe is taking the internet by storm
Lovers of dill pickles are raving over a new soup recipe, but Karlynn from the Kitchen Magpie warns that you will either love it or hate it.
Karlynn created her own version of the recipe when her mother mentioned a similar dish from a diner in Central Alberta where she grew up.
Read more on our Twitter account, @amomama_usa. It became a fan-favorite dish after a food blogger from Alberta also shared the recipe online.
Karlyn's recipe doesn't contain flour, and she added cream for a richer flavor. The ingredients and instructions can be found below.
INGREDIENTS
6 cups vegetable broth
half a white onion
12 baby carrots
2 russet potatoes, peeled and cut into chunks
2 tablespoon dried dill
1 cup chopped pickles
1 cup pickle juice
1 cup half and half cream
INSTRUCTIONS
Pour the 6 cups of vegetable broth into a crockpot and turn the knob to low.
Place the carrots, potatoes, and onion in a food processor and grind until the pieces are in small chunks. Alternatively, cut the vegetables as small as you can.
Add the vegetables to the vegetable broth in the crockpot, and add the dried dill.
Cook on the low setting until the vegetables are soft and falling apart.
When the vegetables are thoroughly cooked, had the pickles and cream, but make sure that the vegetables are cooked. If they are not cooked yet, the pickle juice will harden the pieces.
Add the juice slowly, to taste. Keep adding more until it tastes right to you. Some might prefer a stronger flavor while others opt for a weaker soup.
Lastly, blend the soup with a hand blender before serving.
ADDITIONS AND ALTERATIONS
Chicken broth can be used instead of vegetable broth. Flour can be added if you prefer a thicker soup, but some might not like the "floury" taste.
Extra salt, pepper, cayenne pepper or paprika can be added to taste. This soup is perfect for either winter or summer. Serve with bread or croutons.
If you want to make Thanksgiving extra special this year for your vegetarian friends, have a look at our meat-free "turkey legs" sweet snacks.
Source: The Kitchen Magpie
Please fill in your e-mail so we can share with you our top stories!