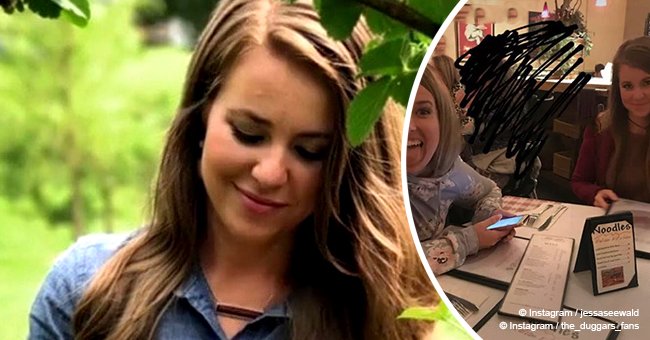 Jana Duggar rejoins her best friend Laura for the first time since dating rumors went viral

One month after the rumors about Jana Duggar dating her best friend Laura DeMasie were denied by the latter, the two women went out to a restaurant with Jana's sister Jessa, who shared pictures of the outing on Instagram.
28-year-old "Counting On" star Jana Duggar has been the subject of constant rumors regarding her relationship status and sexual orientation by fans of the reality TV series for a while and her private life is under much scrutiny.
Jana is the oldest of the Duggars' sisters, and all her younger sisters have already married, following the family's abidance of so-called "traditional family values," and this has made fans wonder what has stopped Jana to form her own family.
As In Touch Weekly reported, Laura DeMasie, Jana's best friend, has joined the Duggar's in many special occasions, including family trips, what has made some people believe they are actually a couple.
Even though Lana has never addressed this rumors, DeMasie denied them categorically in response to a fan asking about it on Twitter back in September. Read more on our Twitter account @amomama_usa
"Is Jana dating her friend Laura? There are tons of rumors flying. Set the record straight," one of his Twitter followers asked 29-year-old Derick Dillard, Jana's brother in law, to which he simply replied: "uh no."
Since the curious fan didn't find Dillard's answer very convincing, DeMasie stepped in to set the record straight, writing: "How about this then: No."
One month has passed since DeMasie's denied the rumors, and Jana and she publicly enjoyed a girl's night out along with 25-year-old Jessa Duggar who shared photos of the two friends on her Instagram stories.
"These two," Jessa captioned a picture of Jana and DeMasie happily posing for her as they were waiting for their food on a restaurant, adding a pair of heart-eyed emojis to her words.
Even if it were true that Jana and DeMasie are more than friends, it would be very difficult for Jana to come out as a lesbian publicly, for that would be conflicting with her family's views on sexuality.
Her 26-year-old brother Josh, for instance, who confessed to having sexually molested four of his sisters, has been outspoken about his views on what can be considered a valid couple, and this doesn't include same-sex relationships.
"Natural marriage is something that has been clearly defined over the years. What's really at stake here is the American family. Marriage is essential to the American family and every single child deserves a mother and a father," he said in 2015.
Despite the speculations, Jana has said before that she has been waiting for the right man to marry but she just hasn't been lucky about it.
"I know how it feels to wait for 'Prince Charming' to come along. I'm still waiting. Waiting is not always easy. Especially in those times when all the married siblings are getting together and you can't go along because you're not part of 'that' group."
-Jana Duggar, Crown of Beauty, 2018
The Duggar's strict views on marriage could be the very same thing that has made it so hard for Jana to find a man. The family doesn't allow their children, however old they are, to leave the home before marrying.
This has forced Jana to stay in the home and live by her parents' old-fashioned rules, something that is not attractive for most men.
But since her sisters married and left the home, Jana may be gradually rebelling against her parents' control. Earlier this year, she attended a family event wearing pants, something that goes against the Duggar's dress code.
No matter what Jana's real feelings are, we just hope that she can find her happiness beyond the pressures of her family and her fans and that she could count with the support of her loved ones.
Please fill in your e-mail so we can share with you our top stories!