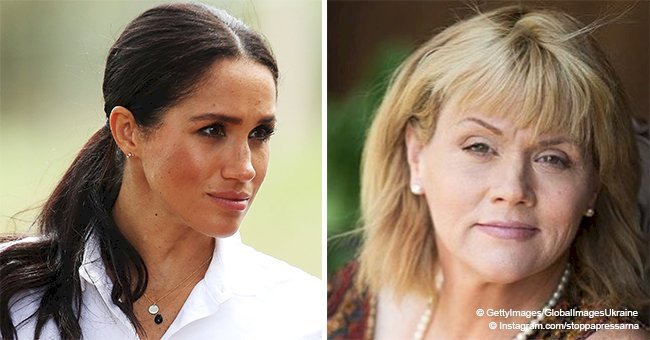 Meghan Markle's half-sister opens up about the Duchess' pregnancy for the first time

Samantha Grant shared her feelings about her half-sister Meghan Markle's pregnancy announcement, and about their father and what it could mean for them as a family.
On the day of the announcement, Samantha's spokeswoman told the press that she would not be commenting on Prince Harry and Meghan Markle's big news. In Ireland during a vacation at the time of the announcement, she is said to have received the news via a text from dad Thomas.
Grant, who has had controversial words to say about the royal couple in the past have broken her silence the day after the official announcement of Meghan's pregnancy. She went shopping for a congratulations card to send Meghan and Prince Harry, and had quite a few words regarding her thoughts to the pregnancy, and said:
"I think we all have to safeguard against any negative or hurt feelings and just work towards a positive, joyous new life in the world."
The Meghan's half-sister added:
"At a proper time, there should be a sit-down wherein everyone can address this properly. Everything has to work itself out. I want to allow Meg and Harry to bring my dad into it in their own appropriate time because they very well should do. Although I can still say I love my sister, I wasn't happy with the way my father was being treated."
Read more on our Twitter account @amomama_usa.
She thinks it in the best interest of the new baby, and the family as a whole that their father is included, hoping that it would make things that have happened over the past year disappear.
But she realizes that there has been a lot of stress and tension but hopes that leaving their father out of the statement was not intentional and says:
"I'm not saying that's an excuse for not communicating with my dad, but maybe she wanted to wait until the exact right moment. I don't want Meg to feel any stress and I want my dad to feel happy and I think all things will come full circle."
Samantha wants to remain positive and wishes Meghan peace, wanting her to be happy and calm while also appealing to her softer side commenting:
"You know Dad loves you, you know he's been there for you more than anyone, so don't let this public monster and misperception that he's like a sperm donor dad trying to be involved all of a sudden."
She also expresses her thoughts that Meghan's pregnancy might be a catalyst to reconciliation and the beginning of mending relationships that have taken strain over the last year.
However, last month Samantha's sentiments were not as positive as she expressed her anger over Twitter, posting comments that reflected her feelings regarding how Meghan is treating her father in no uncertain terms.
She also went on to say:
"I am not candy coating anything anymore! She should be human to our father who has given her everything. He was the one who was always there for her. Fake waves and smiles can stop. She can bow to the daddy."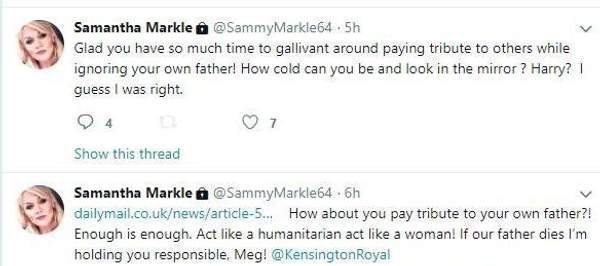 Source: Twitter/Samantha Grant
The news of Meghan's pregnancy was officially announced by Kensington Palace on Monday when they issued a statement saying:
"Their Royal Highnesses The Duke and Duchess of Sussex are very pleased to announce that The Duchess of Sussex is expecting a baby in the Spring of 2019. Their Royal Highnesses have appreciated all the support they have received from people around the world since their wedding in May and are delighted to be able to share this happy news with the public."
They also spoke out on behalf of Meghan's mum, Doria Ragland and added:
"She is very happy about this lovely news, and she looks forward to welcoming her first grandchild."
Doria is rumored to relocate to London after the return of the royal couple from their overseas trip, She currently lives in Florida where she is a yoga instructor and social worker and excited to be there for Meghan during her pregnancy.
Please fill in your e-mail so we can share with you our top stories!