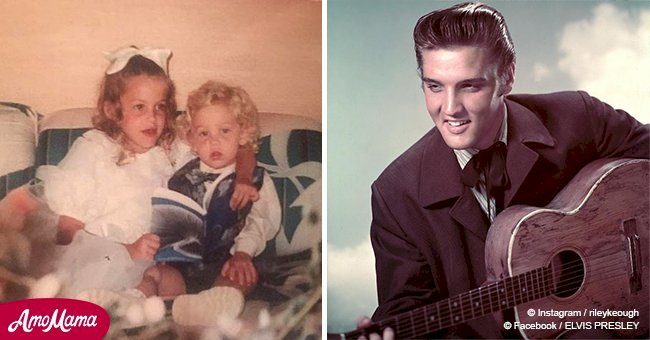 Elvis Presley's granddaughter is all grown up and looks so similar to the legendary singer
Amid several legacies left behind by the legendary artist, Elvis Presley, his talented and beautiful granddaughter is definitely one. And she shares a remarkable resemblance with her famous grandfather.
28-year-old Riley Keough announced her presence to the world with a spectacular performance in television series, "The Girlfriend Experience," which also earned her a nomination for Best Performance by an Actress in a Miniseries at Golden Globes.
That is when the loyal fans of Presley also noticed that the beautiful granddaughter of the icon was a spitting image of Presley.
Keough, who is the daughter of Presley's daughter Lisa Marie and musician Danny Keough, shares similar facial features that remind everyone of Presley himself.
Follow us on Twitter to learn more.
According to a report from Simple Most, Keough's parents separated back in 1994 and she grew up in Santa Monica. Since 2015, she has been married to stuntman Ben Smith-Petersen.
Besides her similar face, Keough is also keeping the legacy of her famous grandfather alive with her fabulous performances in several television shows.
Keough was born in 1968 to Lisa Marie, who is the daughter of Priscilla Beaulieu. Presley married her back on May 1, 1967. Sadly, in 1977, Elvis passed away due to a heart attack.
There are many celebrity children that have grown up to develop a surprising physical likeliness to their famous parents or grandparents.
In the Presley family itself, it's not just the musical icon's granddaughter who has taken after him. Presley also has a grandson, Benjamin Keough, who looks like a spitting image of him.
Among other resemblances, the most obvious ones that Benjamin seems to have borrowed his famous grandfather are his deep blue eyes and the famous Presley pout.
Do You Remember quoted Lisa Marie, who is also a mother to Benjamin, herself as admitting, "He does [look so much like Elvis!] He was at the Opry and was the quiet storm behind the stage. Everybody was turned around and looked when he was over there."
She also explained that everyone was trying to get closer to him and get a photo because the similarity is just "uncanny." She further stated that the sight was quite overwhelming for her.
Please fill in your e-mail so we can share with you our top stories!