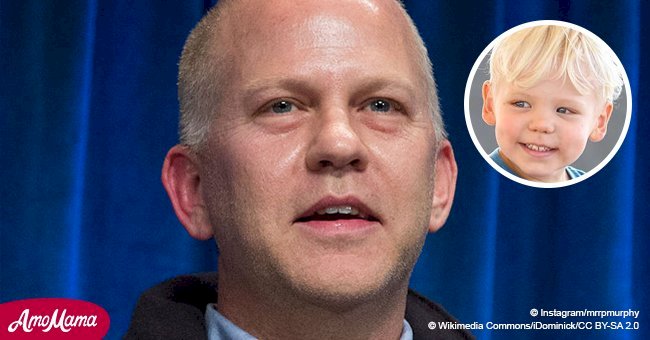 Ryan Murphy opens up about his son's cancer battle

Ryan Murphy, creator of TV show hits like 'American Horror Story' and 'Glee' took to Instagram to make an emotional announcement about his son Ford.
The now 4-year-old Ford Murphy got diagnosed with cancer two years ago, they kept the devastating news private until now as Ryan posted on Instagram:
"I'd like you to meet Ford Theodore Miller Murphy. Today is a big day in his and our family's lives. Two years ago, this sweet little innocent boy with a deep belly laugh and an obsession with Monster Trucks got diagnosed with neuroblastoma…an often fatal pediatric cancer."
Ryan went on to say:
"Today he is thriving. He just celebrated his fourth birthday, a milestone we are all so thrilled about."
Grateful for the excellent care the hospital had been given Ford during his battle with a rare cancer, neuroblastoma, Ryan continued:
"Today at the hospital we are donating a wing in tribute to Ford and our family is making a gift of $10 million dollars so that other children can experience the love and care of this exceptional facility. No child is turned away at Children's Hospital. We are so honored and lucky to contribute and encourage everybody who can to do the same."
Ford's cancer presented as an abdominal tumor the size of a tennis ball which got discovered during a normal checkup two years ago, and the family has been standing together against the disease since.
Read more on our Twitter account @amomama_usa.
Celebrity chef Jean-Christophe Novelli could relate to Ryan Murphy's emotional struggle and experience, as Novelli and his fiancee Michelle Kennedy found out in 2016, that their son too suffered from the same rare form of cancer, neuroblastoma.
Their son Valentino got diagnosed when he was just 10 weeks old after they found a lump in his neck. He felt helpless as his tiny son battled with the disease and said:
"There have been nights when I have sat alone, crying, asking God why this has happened to my little boy and not to me. I wish I could change places with him."
Neuroblastoma mostly affects babies and children up to the age of 5, the disease most commonly occurs in one of the adrenal glands situated above the kidneys, or nerve tissue along the spinal cord in the neck, chest, stomach or pelvis. It can also spread to various other organs. In the UK it affects around 100 children each year.
Simon Cowell recently helped 4-year-old Zac Oliver to get the help he needed in order to receive treatment for a rare form of cancer called Near Haploid. The NHS is currently unable to treat the illness and Zac would have to travel to Philadelphia in the United States for CAR-T therapy.
Cowell posted a video where he appealed to people to donate what they could, after donating $65,000 towards Zac's fund himself.
Six days ago Zac's father Mark Garbett posted the following on little Zac's crowdfunding page:
"We have raised over £500,000 now! which is more than we ever dreamed possible and we are focusing on sorting visas and tickets for Zac to go to the USA and get this treatment. We can't thank everyone enough. The fundraising is taking a slightly different turn from now as we have met the target but realize all sorts of things could go wrong along the way and the trustees of "Zac's Brave battle" are trying to quantify a sensible contingency for us."
Many people are now sharing their stories, creating more awareness and raising funds for much-needed research to find treatments and possible cures for a whole range of various cancers. Much good comes from the generosity of others, being it through their time, money or expertize, it all makes a difference to those in need.
Please fill in your e-mail so we can share with you our top stories!