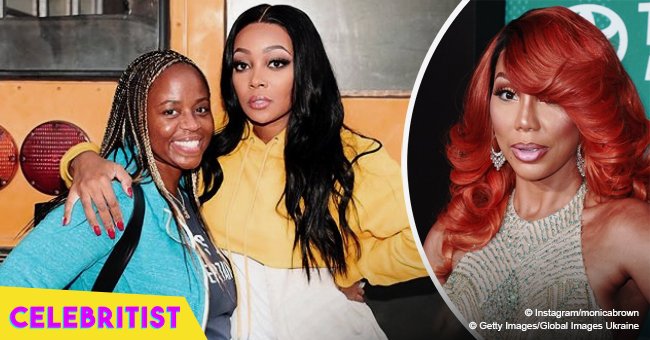 Tamar Braxton slammed over 'childish' comment on Shante Broadus' birthday post for Monica Brown

It was Monica Brown's birthday and while Shante Broadus took a moment to greet the singer, Tamar Braxton chimed in and made it about her.
Fans slammed Tamar Braxton after she hopped in the comments section of Snoop Dogg's wife, Shante Broadus who greeted her BFF with a birthday post. But instead of sharing in the greetings, Braxton opted to highlight an issue between them.
Broadus' caption read,
"Happy birthday to My "Day One" my BFF @monicabrown."
Braxton's made no mention of a birthday at all. She alluded to Brown not liking her but tells the singer she loved her movement.
"Sheon like me for whatever but I love her and her movement #strongchicksunite"
BRAXTON BLASTED
Braxton's remark triggered a series of comments blasting her. Some suggested she look inward and self-evaluate why Brown didn't like her. Others wished she dropped the negative attitude in her non-birthday greeting.
"When you think a person don't like you for "whatever".. it's time to reevaluate yourself and fix " whatever."
"Girl just say happy bday to Mo or keep it moving because I love you both no need for shady drama Tay."
"If Monica doesn't like you. Then YOU the problem! Monica loves everyone!"
"Always gotta be something negative the world didn't have to know that."
"come on sis! Did you really have to come on this post with your pettiness? This post is about celebrating @monicabrown birthday. Say happy bday, and move on."
There's more where these comments came from but let's move on and look back at the reason why Braxton would think Brown doesn't like her.
THE FALLOUT
When she guested on the Wendy Williams Show last month, the Braxton sister enlightened the talk show host about their fallout. She said it started when she unfollowed all her friends after she was fired from "The Real."
"I unfollowed Monica, I unfollowed Tiny, I unfollowed Kandi…I unfollowed everybody that day that posted THAT show ["The Real"] I was rightfully in my feelings, it was nothing personal."
Braxton explained that she unfollowed everyone including Brown because she didn't want to see anything to do with the show in their feeds at the time.
"She [Brown] wasn't even on "The Real" that day, I unfollowed everybody because I didn't wanna see it. I had every intent of following everybody back."
However, when Braxton followed everyone back, Brown blocked her.
THE REAL SCORE ON HER EXIT FROM "THE REAL"
It's been a tough couple of weeks for Braxton lately. Her former co-hosts in "The Real" have spoken up about why she was fired and it cast doubts on the singer. According to Loni Love, Braxton asked for her help to find another manager. Love later learned Braxton and her estranged husband slash ex-manager Vince Herbert blamed her co-hosts for having her fired from the show. Herbert claimed it was driven by jealousy.
SPEEDING UP HER DIVORCE
While all that was going on, Braxton's been pleading with the judge to sign off on her divorce papers. She filed for divorce from Herbert in 2017 and served him papers again a few months back. The record producer didn't appear in court within the 30-day deadline prompting the singer to request for a default judgment on their case.
Braxton is currently seeing a Nigerian man who she hasn't named. She also opened up to Williams about him and revealed she's in love.
Please fill in your e-mail so we can share with you our top stories!