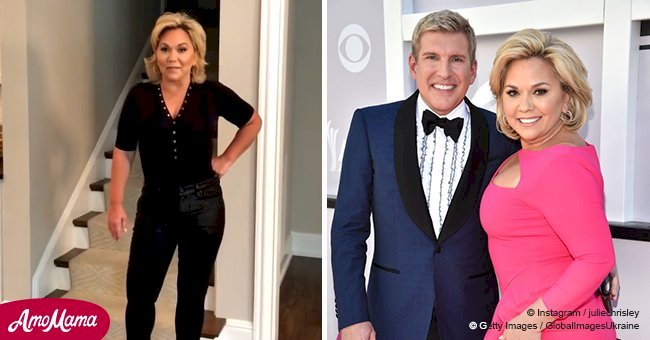 Julie Chrisley 'feels better about herself because she looks better.'

The 45-year-old reality television personality and mother-of-five, Julie Chrisley, discussed her struggles with weight-loss.
The reality television star told People that she lost nearly 10 kilograms since using the Nutrisystem back in January. More details below.
Read more on our Twitter account, @amomama_usa. She worked a diet consisting only of foods that were suited for her and said:
"I started just doing the breakfasts and the snacks, and then I added in my lunch. Then I do have dinner with my family at night. I just modify that and make better choices."
Her eating plan consists fo burritos, egg sandwiches, fudge bars, and mini cakes. Even though it sounds reckless for a diet, Julie says she adheres to strict portion control.
Julie and her husband, Todd Chrisley, rose to fame in 2014 with their reality show, Chrisley Knows Best. It followed the lives of the Georgia-based real estate mogul and his family.
The reality show follows the lives of Todd Chrisley, a temperamental real estate mogul, and his family.
They have five children. Todd is short-tempered and often takes it out on his son, Chase. Julie never has a hair out of place and loves to cook - a real Southern Belle.
Julie was only 39 years old when she was diagnosed with breast cancer after Todd insisted she go for a medical check-up. She went for a mammogram the same year.
The American Society Guidelines urges women to go for regular check-ups when they reach their forties, but when Julie found lumps in her breast, Todd didn't want her to waste time.
And that might just have saved her life. Because the cancer was caught in its early stages, she underwent a double mastectomy and has been cancer-free for five years.
Julie goes for regular check-ups and urges all women to do the same. She is grateful to have been given a second chance, and uses it to raise awareness about breast cancer.
In 2015, Julie, 44, and her 20-year-old daughter, Savannah, partook in the Race for a Cure March, hosted by Susan G Komen.
Thanks to the initiative, $2 billion have been made available for research and treatment.
Please fill in your e-mail so we can share with you our top stories!