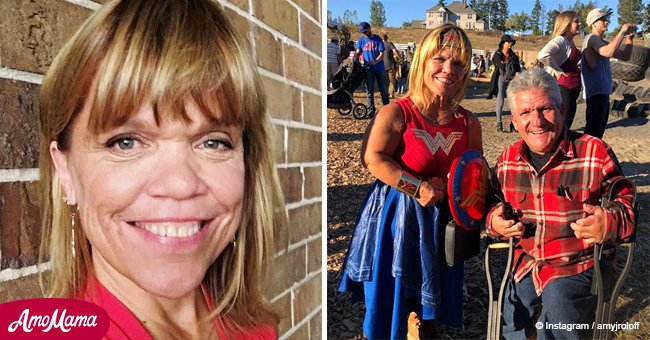 Amy Roloff shared her thoughts on divorcing ex-husband Matt
Amy Roloff of the "Little People Big World" reality show recently opened up to one of her Instagram fans about her divorce.
The 54-year-old matriarch of the Roloff clan responded to a fan who wished her well after her divorce from Matt Roloff back in 2016.
Read more on our Twitter account, @amomama_usa. A screengrab of the comment can be viewed below.
An Instagram user known only as jimmygloria416 said she is glad that Amy is happy, and added that she too is going through a divorce.
The fan said it is working out for her and Amy wished her and her loved ones well. She added:
"Glad you're happy. One thing I've learned not only did it impact me going through it and after it was final but my kids as well, even as 'adults.'"
Amy explained that weathering the storm made her stronger and she handled it much better than expected. She is also "happy in this stage" of her life.
The mother-of-four said all her children "are doing well" and she met "someone that is wonderful," referring to her partner, Chris Marek.
Their relationship is getting stronger by the day, and Marek joined the Roloff family on the Roloff Farms over the weekend for the official start of pumpkin season.
Amy said on Instagram that they had "another wonderful weekend" and thanked her fans for their continual support.
"Thank you so much for coming out to our farm. We hope you had a great time. I'm grateful I get to meet so many of you too."
Amy's daughter-in-law Tori also made headlines recently when she responded to rumors about an alleged second pregnancy.
Tori shared an adorable family photo and explained in the caption that she is not pregnant, but asking a woman that could be damaging.
"Yes I love baggy clothes and food. What if I was a women [sic] who couldn't get pregnant? What if I was a women who had body image issues?"
In the past, Tori had to "watch time and again" how some of her friends and even family members were struggling to conceive.
Please fill in your e-mail so we can share with you our top stories!