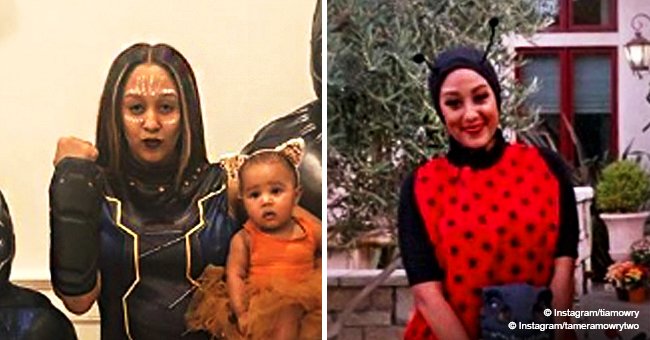 Tia and Tamera Mowry share photos with their husbands & kids in adorable Halloween costumes

Tia and Tamera Mowry, best known for "Sister, Sister," took to Instagram to share the Halloween costumes that their families wore. They chose completely different themes.
In Tia's case, she and the rest of the Hardricts opted for paying homage to Wakanda as they all put on Black Panther costumes. In her post, she appeared in the middle of the image wearing a suit just like the one shown in the movie.
She was holding baby Cairo, who was the only member of the family wearing an orange top, a bronze tutu, and cat ear headband. Surrounding the ladies, Cree and Cory Hardrict were posing with their Black Panther outfits.
PEOPLE'S REACTION
As soon as Tia uploaded that image, her followers took to the comment section to share their thoughts. Most of them praised their costumes and said that they all looked wonderful. Others noticed Cairo's face and pointed out that she was probably wondering what was happening.
THE HOUSLEYS
Tamera's family, on the other hand, chose two themes – one for the boys and one for the girls. Adam and Aden Housley chose prehistoric outfits as the boy was wearing a dinosaur costume and the father a caveman one.
Ariah and Tamera opted for ladybug ensembles that made them look very beautiful. Those who shared their thoughts on the comment section pointed out that they all looked very adorable and that their choices were smart.
THEIR BIRTHDAY CELEBRATION
It was not the first time during this year that Tia and Tamera dressed up for a celebration as they threw a 70s-theme party at Good Times at Davey Wayne's in Hollywood to honor their 40th birthday.
They rocked some glittery, loose, and attractive outfits and had "a blast" during the entire party. Tia pointed out that the last time they celebrated their birthday together was when they turned 21, what made this milestone more special.
"We didn't miss a beat. It was kind of like when you're with your friend that you hadn't seen in a long time and you get together, and it didn't feel any different. It felt like it was just yesterday," Tamera added.
HONORING THEIR MOTHER
Recently, the twin sisters uploaded photos on Instagram to honor the 62th birthday of their mother, Darlene. Tia's post showed her, her children Cree and Cairo, her brothers, her husband, and Darlene flashing their smiles at the camera.
Tamera apparently couldn't attend the birthday celebration as she was nowhere to be seen in Tia's posts. However, she took her time to honor her mother on social media by posting a "Flashback Friday" photo to Darlene's 60th birthday.
In it, Darlene was in the middle of her four children rocking a beautiful black dress while Tia, Tahj, Tamera, and Tavior – the fourth Mowry sibling – were posing for the picture. One of the most striking features about it was how similar all of them looked.
Please fill in your e-mail so we can share with you our top stories!