Sharon Osbourne wears a Dolly Parton costume for 'The Talk' Halloween edition
Dressing up as Dolly Parton for Halloween was not enough for Sharon Osbourne, so she lived herself into her character and delighted fans with her efforts.
Hosts at 'The Talk' went all-out for Halloween this year, they decided to all dress up as rock stars to make the show musical, and Sharon Osbourne really got into the theme as she dressed as Dolly Parton, letting her inner country star shine.
Ever wonder how #TalkRocktober comes together? Go backstage w/ our hosts and attend their rehearsals! WATCH ➡️ https://t.co/rC5n504S3W pic.twitter.com/TKfvVexOvi

— The Talk (@TheTalkCBS) October 31, 2018
Right down to the details of long pink nails Sharon Osbourne made sure to get all the details right. With a voluminous blonde wig, a white jumpsuit that showed off cleavage and a bandanna tied around her neck she looked the part.
Sharon had no qualms of making a video in which she campaigned for votes as the show's #TalkRocktober fan favorite and said in typical Sharon fashion, 'It's Mrs. O but I'm Dolly today.'
It's a #Halloween party, and everyone's invited! Catch each of our #TalkRocktober performances plus all of the behind-the-scenes action in our biggest episode of the season! Watch the full episode here ➡️ https://t.co/g2O3QWTQL7 pic.twitter.com/lWG9AvM8vK

— The Talk (@TheTalkCBS) October 31, 2018
Read more on our Twitter account @amomama_usa.
Another video got posted on the show's website where Sharon can be seen lip-syncing to the hit '9 to 5' which Parton sang in the 1980s film in dealing with broken typewriters, coffee machines, and other relevant daily work annoyances.
In the spirit of #Halloween, the ladies are playing Dr. Frankenstein w/ some of your favorite music superstars! Guest co-host @ArsenioHall challenges everyone to a game of "Rock Star Remix." How many remixed celebrities can you name? WATCH ➡️ https://t.co/SgGyDFfMSr pic.twitter.com/gwuOxMr0L9

— The Talk (@TheTalkCBS) October 31, 2018
She then took to the stage with a guitar and dancers for effect while finished the song with gusto. Sharon joked afterward that the best part of impersonating Parton was 'thinking I had this amazing talent that I don't.'
Watch @MrsSOsbourne as @DollyParton performing '9 to 5!' #TeamSharon #TalkRocktober 🎃🎤➡️ https://t.co/qCpxDA9b5F pic.twitter.com/QEWXdXYUpx

— The Talk (@TheTalkCBS) November 1, 2018
Dolly Parton congratulated Sharon on her performance and said:
"You did good. I'm so honored that you decided to be me for Halloween. You look good, good job, good rack — where'd you get em? You make a better Dolly than I do!"
Sharon also sent a partial photo of her Parton-inspired chest to husband Ozzy Osbourne, who replied with, 'Who the hell is that?!' She jokingly replied back to Ozzy, 'It's me!'
If there was an award for the most hilarious Halloween costume this year than the famous country music couple, Luke and Caroline Bryan would have been crowned the winning King and Queen.
While starting off by posting throwback pictures of costumes they wore previous years she finally worked up to the pictures of this year, at first she posted a pic of herself, as a squirrel, and then the picture of Luke followed.
He was this year's acorn, dressed in a bright yellow and brown outfit. Standing next to each other, the squirrel-acorn couple looked very comical. The couple, along with other celebrities like Sharon Osbourne and Ellen DeGeneres enjoying the Halloween spirit for sure.
Ellen DeGeneres did not disappoint during this year's Halloween festivities either. She pulled off a hilarious Bachelor spoof, in which she played a blond with long curls and a silver dress with a plunging neckline named Kelllly D, once on stage she announced:
"I came here for two things: to get a man, that's one. And to drink tequila. A lot of tequila."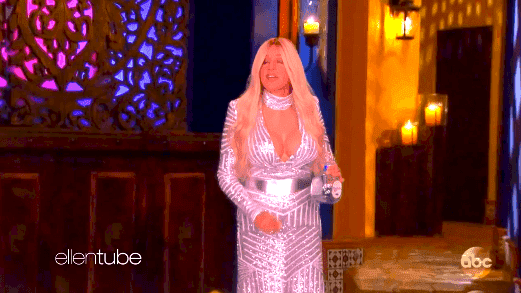 The bachelor for the evening was non-other than Milo Ventimiglia, the 41-year-old 'This Is Us star. Another 'contestant' walked out in a red dress and a bottle of wine and went straight to the hot tub where she was joined by none other than Nick Viall, in his swim trunks.
Ellen's character Kelllly D didn't come out as the winner and the last few minutes show her sobbing in the back of a car. At the end a glimpse of the Fantasy Suite got shown where it became clear who got the bachelor in the end, his new lady was the one and only Rebel Wilson.