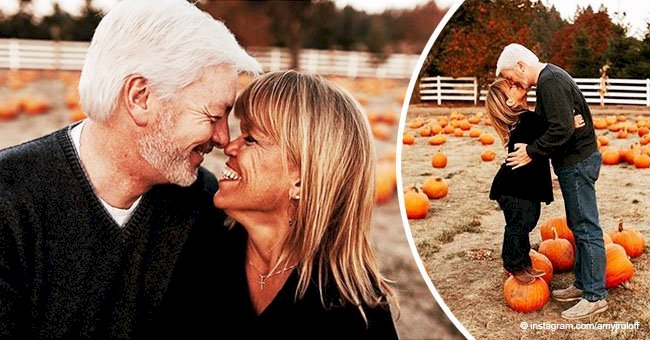 'LPBW' star Amy Roloff shows off new photos with boyfriend Chris Marek and it's pure love
Amy Roloff and Chris Marek shared adorable couple photos on Instagram with pumpkins in the background.
The two skipped the Halloween costumes last week. Instead, they opted for a photo shoot that shows how serious their two-year relationship is.
The autumn-themed collage featured smiling faces, kisses, hugs, and laughter as the two posed at the Roloff farm on October 26. The photos are found below.
The "Little People Big World" star captioned the photos:
"I was so happy when I asked Chris, several days ago, to do a 'photo shoot' together and he agreed! Just a glimpse of a few photos I wanted to share here and I can't wait to see the rest of them."
She thanked the photographer:
"Thank you so much @moniqueserraphotography for capturing us in a real and special way. You were fabulous and made it such a fun time!"
Then again spoke of her happy relationship with Marek:
"I love how our story began, how we continue to learn more about each other and love every day and we're just as good and wonderful two years later. Woohoo!"
Roloff then concluded by asking her fans to pay her farm a visit:
"Happy Fall. One more weekend left of pumpkin season at Roloff Farms and I hope to see you."
Roloff's followers were generally very happy for her. Nettie Redshaw said the pictures were "great photos of you and Chris. It's great to see you so Happy hun xx."
And Cheryl Hinote reminded Roloff that she "deserves all the happiness in the world. You go girl."
Roloff's relationship with Marek follows her divorce from former husband Matt Roloff. Their marriage spanned nearly three decades and it ended on a rough patch.
The pair's children, despite being adults, were deeply affected. Roloff addressed this in a reply to a fan who asked for divorce advice.
"One thing I've learned, not only did it impact me going through it and after it was final but my kids as well - even as 'adults.' "
Thankfully, the family has amended their squabbles. Roloff's ex-husband has also moved on to be with Caryn Chandler who manages their farm.
Roloff said the fact that she has to see Chandler constantly is "one of the hardest things [she's] gone through" and "not healthy for her."
Nonetheless, it is necessary as Chandler manages the pumpkin season at the farm. And Roloff definitely appears to be handling it very well.
Meanwhile, two of their children have made their own paths in life and do not appear on the show as much as before.
Jacob, 21, is making an effort to be recognized for his own talents through a web-based series. Molly, 24, recently got married and is no longer living with her family.
Please fill in your e-mail so we can share with you our top stories!