Jason Aldean and wife reveal unborn daughter's name at their baby shower, and fans love it
Country singer and songwriter James Aldean and his wife Brittany announced their unborn baby daughter's name on social media. 
Brittany shared a photo from the baby shower to Instagram, and wrote in the caption: "Today we celebrate you, baby girl."
The photo showed the decorations surrounded with wooden shelves full of treats and a neon that spelled out their daughter's name: Navy. 
Read more on our Twitter account, @amomama_usa. Brittany's Instagram post can be seen below. 
She also shared a short video clip to Instagram, and let Jason's 10-year-old daughter from a previous marriage, Kendyl, to do the honors of announcing the name.
Brittany started off by saying, "It's Brit and Kendyl here, and we are so excited for," before trailing off so that Kendyl could say: "Navy Rome Williams."
Earlier today she shared an adorable video clip of a tiny denim jacket with name emblazoned on the back, saying it "doesn't get cuter."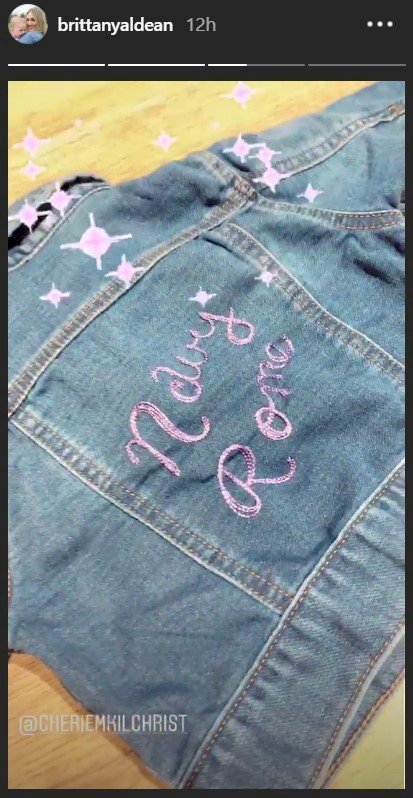 The couple announced the gender of the baby back in August when Aldean played baseball with daughters, Kendyl and the 15-year-old Keeley.
The ball was filled with pink dust, which exploded in a beautiful puff of pink when Keeley swung and hit the ball. 
The couple already knew that they were expecting a girl but wanted to share the news with Kendyl and Keeley in a fun way. 
In a previous interview earlier this year, Brittany said they had been trying for a year and a half to conceive, adding: 
"No one really knows this, but we had to do in vitro, so it was the longest process. It was such a roller coaster, and I ended up, through it all, having endometriosis. After a year and a half of trying, they're finally like, 'We think you might have endometriosis.' I'm like, 'After all that, are you kidding me?'"
🎶 Life on the road is a lot different for @Jason_Aldean as a soon-to-be father of four! 🍼 pic.twitter.com/pFwHZ6lmNc

— Entertainment Tonight (@etnow) October 10, 2018
The couple is waiting in expectation for Navy's arrival in February. During his recent tour, Aldean joked that he traded liquor bottles in for baby bottles. He explained: 
"Used to, when you walked on our bus there was [sic] liquor bottles. Now, there's like baby bottles and empty formula cans and toys all on the floor. It's crazy."