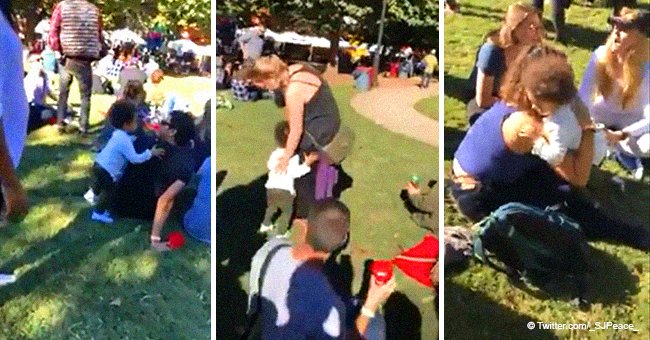 Adorable video of boy giving hugs to 'everyone' goes viral
A biracial toddler became the highlight of a fortunate group of people milling about in a park, as he spread love by hugging everyone goodbye, even if they were strangers. The boy has now earned the hearts of thousands across the internet.
Nick Sasfy and his wife Stephanie, from Atlanta, Georgia, were enjoying a lovely afternoon at a music festival held at a nearby park. Like them, dozens of people crowded the space, sitting on blankets with their family and friends and jamming to the jazzy music that filled the place.
Nick and Stephanie took their adorable son Jude with them, and as it happens when you have toddlers, the couple decided to leave early, probably to avoid tantrums from the boy. However, once they told Jude that it was to go, the boy's decided he wanted to say "bye, bye" to the people sitting nearby.
Jude showed not only good manners with his disposition to say goodbye to his peers, but also a friendly personality, as he walked from person to person with his arms wide open and ready to give them a sincere hug.
People were surprised at first by the boy's actions, including his parents, who were following Jude around to make sure he was okay. "Free hugs!" Stephanie announced everytime Jude hugged a new unsuspecting person.
The hugs' recipients were more than content to reciprocate Jude's love, and almost everyone got a hug from the boy, except one man who was given the cold shoulder by the boy for no reason. Maybe he didn't like that the man approached him instead of waiting for his turn like the rest.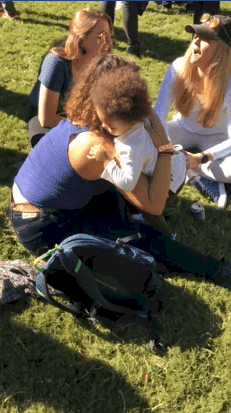 Source: Facebook/nick.sasfy
The final hug seen in the video was probably the purest of them all. Jude found a little girl about his age and without thinking, the toddlers embraced in a friendly hug, making people around them "aww" out loud just before the clip was cut.
The video was first posted by Sasfy on Facebook and has earned over 29 million views in just three days.
A Twitter user with over 143k followers also reposted the video, taking Jude's actions as an example not only of kindness with others but also of the notion that "love transcends anything" including racial backgrounds. He wrote:
"No one is born hating another person because of the color of his skin or his background or his religion. People must learn to hate, and if they can learn to hate, they can be taught to love, for love comes more naturally to the human heart than its opposite."
People reacted to the video with great emotion, expressing how lovely is to see a kid spreading love so openly and wondering when did most grown-ups lose the capacity to love and respect their peers.
Please fill in your e-mail so we can share with you our top stories!