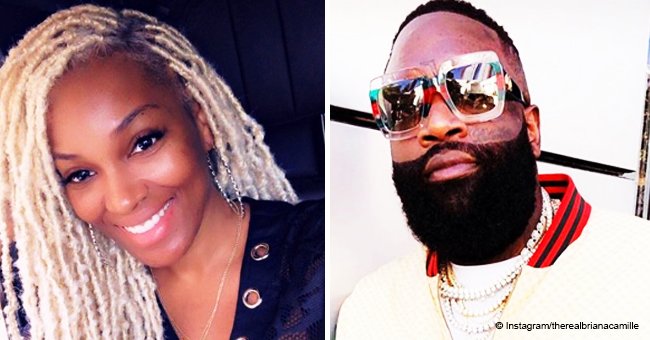 Rick Ross welcomes son with girlfriend and reveals his unusual name
Congratulations are in order for MMG Boss, Rick Ross and his girlfriend, Briana Camille. The couple welcomed their second child, a boy, into the world on Tuesday, and the rapper revealed the baby's unusual name.
Rick Ross has become a father for the fourth time, and he announced the good news on Twitter writing: "Bruiser in da bulding[sic] #itsaboy."
"Let's all welcome my son 'Billion Leonard Roberts' to the world," tweeted the 42-year-old "Green Gucci Suit" rapper, revealing his son's unique name to his fans.
Baby Billion is Ross' second son overall and second child with girlfriend Brianna Camille, with whom he also shares 1-year-old daughter Berkeley Hermes. Ross also has 16-year-old daughter Toie, who celebrated her birthday last August with an expensive birthday party, and 12-year-old son William Roberts III, from his relationship with Tia Kemp.
CONGRATULATIONS FROM A FELLOW MUSICIAN
Brianna Camille also took to her Instagram to give a big welcome to her baby. She posted a pic that features her son's name in bold golden letters and confetti in the background and simply captioned it "B.I.L.L.I.O.N" with blue hearts emoji included.
The mom also shared a video from DJ Khaled congratulating Ross on his new baby. "Hey yo Rozay congratulations on Billion, the father of Billion, congrats you know I love that," the music mogul says on the clip.
He also stated that they have to set up play dates, or as he calls it "mogul time" for their boys to hang out, expressing that having a kid "is the best thing ever."
FANS' REACTIONS
Fans from all over the country also filled Ross and Brianna's comment sections with congratulations and well wishes, and most people found Billion's name to be amusing but exciting.
Instagram user @hashtag.getyolife wrote:
"Well, everyone... BILL is short for William. In which is his father's name... his name is a creative way to name him the same as his father just with a little swag. Congrats on your blessing! Wishing you a speedy recovery, peace, and love! @therealbrianacamille"
While Twitter user @MarkWright43 added:
"This child is about to be the swaggiest human being on the planet."
LOOKING BACK ON ROSS' BUSY YEAR
Rick Ross has had a rough year. Back in March, he was hospitalized after he was found unconscious at his Florida home, and while the cause of his health scare remains unclear, TMZ reported at the time that the rapper was dealing with some respiratory issues.
Talking to US Weekly a few months later he stated that all was back to normal in his life saying:
"I'm good, man. I'm good. Nothing has really changed. It's about being my best self and focusing on the music. I'm enjoying life and living life to the fullest."
Ross has also been facing his massive debt in taxes while getting ready to release his upcoming album, "Port Of Miami 2." He's also set to appear on the "Creed II" soundtrack and settled a child support case with Tia Kemp over their 12-year-old son last July.
Please fill in your e-mail so we can share with you our top stories!