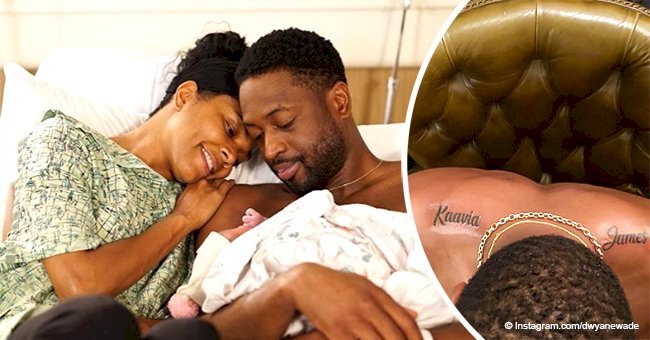 Gabrielle Union explains newborn daughter's name after Dwyane Wade tattooed it on his shoulders
Not too long after Dwyane Wade revealed their daughter's name, Gabby Union took to the comment section to reply a fan who wanted to know why they chose the names they did.
Yesterday, NBA player, Dwyane Wade, 36, showed off two tattoos on each of his shoulders that read "Kaavia" and "James" respectively. Indicating that it was a throwback photo, Wade revealed in the caption that it was their newborn's name.
"That one night in China when I decided to get my daughter's name tattooed on me. Kaavia James Union Wade!" he wrote.
IN HONOR OF HER UNCLE
One of the fans in the comment section wanted to know why the girl was named James and the "Breaking In" actress took her time to explain how the names came about.
Union, 46, said:
"Great question. We wanted my family represented in her name. My godfather is my Uncle James Glass. She is named after him… and then Union… that's…ya know…me."
DELIRIOUS BUT EXCITED
Union and her husband welcomed their first child together via surrogate on November 7. The next day, they announced the birth on their respective Instagram pages with photos of the new parents bonding with their baby girl.
"We are sleepless and delirious but so excited to share that our miracle baby arrived last night via surrogate and 11/7 will forever be etched in our hearts as the most loveliest of all the lovely days," they wrote. "Welcome to the party sweet girl!"
INFERTILITY STRUGGLES
Union and Wade's "miracle baby" expression most likely has to do with the Hollywood star's struggles with infertility. She opened up about the numerous failed attempts to conceive in her 2017 memoir, "We're Going To Need More Wine," saying:
"I have had eight or nine miscarriages. For three years, my body has been a prisoner of trying to get pregnant - I've either been about to go into an IVF cycle, in the middle of an IVF cycle, or coming out of an IVF cycle."
ON CLOUD NINE
Since welcoming Kaavia James, Union and the Miami Heat shooting Guard have been sharing photos of bonding time with their little one. Already, Kaavia has seen a football match with daddy and had countless snuggle sessions with her mommy.
STEPMOM-OF-FOUR
Although this is Union's first child, the actress is already stepmom to Wade's three sons from previous relationships. The couple is also raising Wade's nephew.
After four years of dating, Union and Wade got engaged in 2013 and finally tied the knot in 2014.
Please fill in your e-mail so we can share with you our top stories!