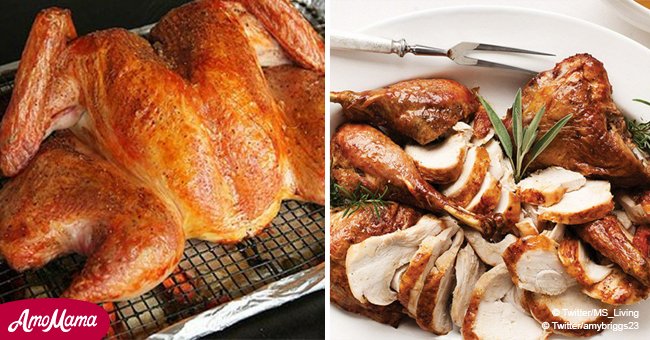 Here is how to spatchcock a turkey and why you need to try it on Thanksgiving
It's almost Thanksgiving, and if you want to impress your friends and family with a feast fit for a king, then this recipe will come in handy.
Spatchcocking – removing the backbone and pressing it flat, also known as to butterfly a turkey – is one of the best ways to roast a turkey.
Follow our Twitter account, @amomama_usa for more tips. The how-to video on spatchcocking can be seen below.
By spatchcocking a turkey, you ensure the meat is juicier and the skin crispier. It will cook faster, and the heat will be more evenly distributed for even cooking.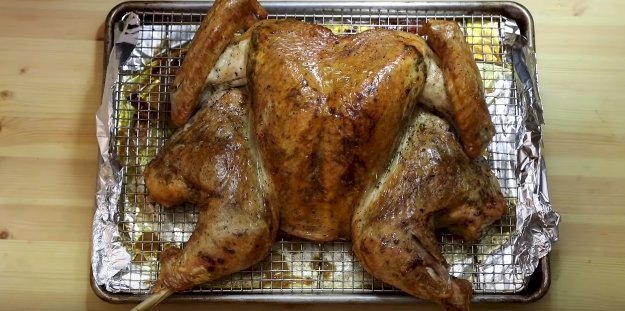 Source: YouTube/SeriousEats
Remember that the drumsticks and thighs take longer to cook traditionally because they are underneath the bird unless you flip the bird over, it won't cook through.
But spatchcocking will fix that. Most butchers will spatchcock poultry if you ask them, but it's really not that hard doing it yourself. Here's how.
First, you'll need to get a pair of good quality poultry shears, as regularly kitchen scissors won't work. Then, tie the turkey breast-side down.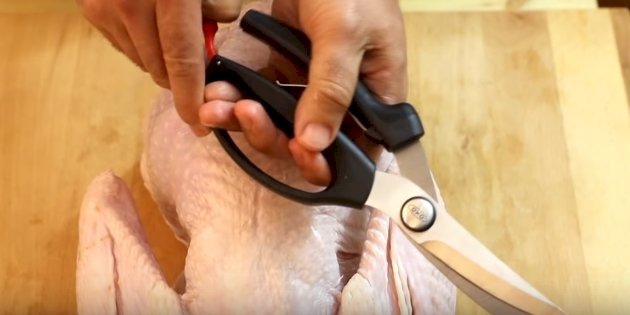 Source: YouTube/SeriousEats
Cut along both sides of the backbone so that it can be easily removed. This is where the pair of shears come in handy, and it will easily cut through the leg and hip bones.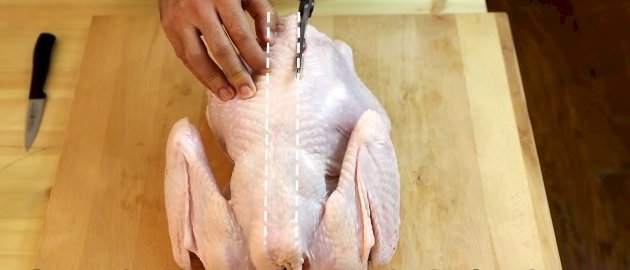 Source: YouTube/SeriousEats
Once the breastbone is removed, flip the turkey around so that it faces breast-side up. Place your palms on the breast and press down to crack.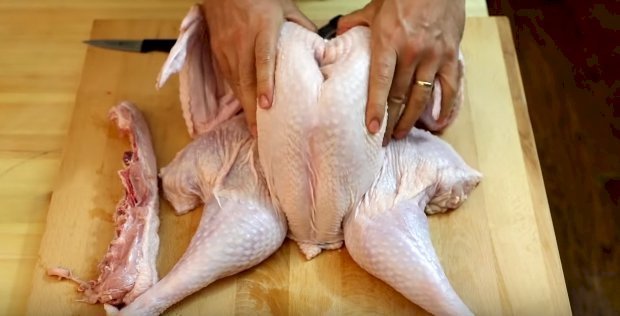 Source: YouTube/SeriousEats
Now that the hard part is over, tuck the wings and the legs in and remove any excess pieces of skin and fat.
The excess pieces can be used for a broth, simply add all the pieces to pot, along with vegetable and the aromatics of your choice.
Let it simmer for 45 minutes. Then, cook a quarter cup of flour with a few tablespoons of butter until golden blond, then slowly whisk in the strained stock to make a great gravy.
Why not try something different this year and serve a slice of Meghan Markle's famed banana bread? Find the recipe here.
Please fill in your e-mail so we can share with you our top stories!