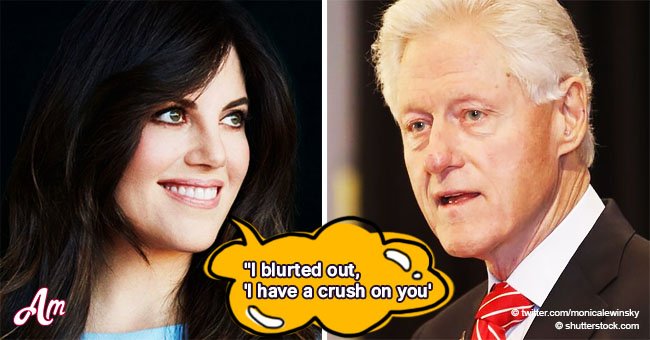 Monica Lewinsky shared new details about Clinton: 'I was completely at his mercy in that way'
In 1995, Monica Lewinsky was working as a White House intern under President Bill Clinton. Things turned from professional to risqué when they began an affair.
Their affair was revealed three years later. In a new documentary series "The Clinton Affair," Lewinsky reveals new details about the affair.
On Sunday night, Monica Lewinsky's tell-all documentary "The Clinton Affair," premiered on A&E. Lewinsky revealed how she'd flirted with former President Bill Clinton back in 1995.
She ashamedly recalled meeting Clinton:
"I blurted out, 'I have a crush on you.' He laughed and smiled, and then asked me if I wanted to go into the back office, and I did."
For more on this story go to our Twitter account @amomama_usa. She was attracted to him because he paid attention to her. Lewinsky explained:
"He, you know, paid a lot of attention to me. My underwear had – showing my thong underwear. And I thought well, I'll up the game. It was unnoticeable to everybody else in the room. But he noticed."
In the documentary, she also shared how unbalanced their relationship was. He was allowed to contact her but she couldn't contact him. She said:
"If he called me, I couldn't call him back; I was completely at his mercy in that way."
In 1998, when their relationship was eventually exposed, Clinton was impeached, but he was acquitted in a Senate trial to remove him from office.
He ultimately managed to regain his public image which Lewinsky still struggles with today.
At the time, she even considered suicide and she was afraid of how the scandal would affect her family.
An attorney and columnist who's written about Lewinsky for the website Law & Crime, Elura Nanos said the authoress was now "taking back her own identity."
Nanos believed that the public's perception of Lewinsky was finally changing due to the #MeToo era.
Lewinsky shared that she hoped the documentary would change how people spoke about her.
The author stated that their perceptions would change from calling it "the Lewinsky scandal" to "the Clinton affair."
Before the documentary aired, Lewinsky wrote a piece for Vanity Fair explaining why she'd chosen to do the interview.
She explained that she wanted to tell her story in her own words, and also admitted that she would love the opportunity to apologize to Clinton's wife, Hillary and their daughter Chelsea.
However, this time she'd like to do it face to face. Lewinsky recorded more than 20 hours of interviews for the three-night series.
Please fill in your e-mail so we can share with you our top stories!