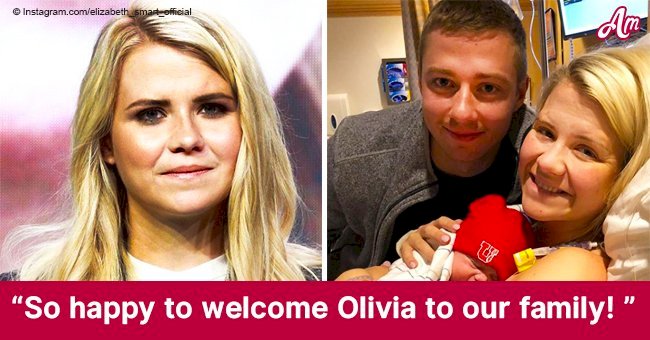 Elizabeth Smart welcomes a third child and reveals newborn daughter's first photo
Kidnapping survivor and missing child activist Elizabeth Smart just welcomed baby number three. She shared the heartwarming photo of Olivia to her social media.
Smart, 30, posted an adorable grinning photo of herself as her new daughter lay on her chest in a hospital bed. Husband Matthew Gilmour also appeared smiling in the picture.
Smart gave birth to baby Olivia just yesterday. The pair also shares children Chloe, 2, and James, who is just ten months. Smart and Gilmour have been married since 2012.
Along with the heartwarming photo, Smart posted the caption:
"So happy to welcome Olivia to our family!"
It was back in 2002 that a 14-year-old Smart was kidnapped from the bedroom she shared with her younger sister. Almost a year later, a stranger recognized her kidnapper and called the cops.
Since then, Smart has been making appearances and advocating for missing children. She wrote two books: "Bringing Elizabeth Home: A Journey of Faith and Hope" and "My Story" which talk about her experience.
She and Gilmour met in 2012 as missionaries in Paris. They got married in Hawaii with a beachfront ceremony. They now live Park City, Utah, Smart's home state.
Just two months ago, Wanda Eileen Barzee was released from prison despite Smart's plea that she remain there. Barzee worked with Smart's abductor and rapist Brian Mitchell.
Mitchell has been sentenced to jail for life. But Barzee was not supposed to get out until 2024. She was granted parole in June 2018.
It was the same month that Smart announced she was expecting to the public. She posted a black-and-white ultrasound photo to Instagram with the caption:
"Pretty HUGE news!!!!!! We're expecting baby #3 in November!!!!"
Despite her painful history and the recent development with her former captor, Smart says she is determined to live a happy life.
She spoke with CBS This Morning regarding the release of Barzee:
"I don't feel that I could have moved forward in my life had I still been holding on to hate and anger inside me, because that would still be taking up a percentage of my soul."
"And that means that, you know, I wouldn't be able to love my own children 100 per cent, love my husband 100 per cent, because a part of me would still be taken up with anger."
Based on the many photos she posts of her kids, Smart appears to have pulled through. We hope she continues sharing her journey with others like her and goes on keeping children safe.
Please fill in your e-mail so we can share with you our top stories!