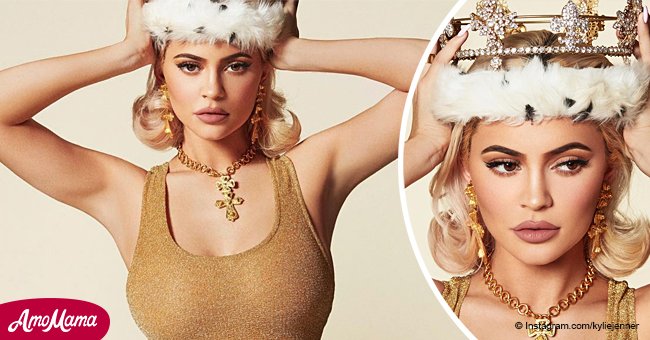 Kylie Jenner makes a bombshell queen in a crown, flaunting her curves in a gold mini-dress
Kylie Jenner shared stunning photos of herself from her forthcoming 2019 Calendar.
Kylie Jenner, 21, revealed photos which were taken for her new 2019 Calendar, and the theme marks her out as American Royalty on Instagram/ kyliejenner on November 22, 2018.
Jenner, who is the youngest daughter of 1976 Summer Olympics decathlon winner BruceJenner - now Caitlyn Jenner - and TV personality Kris Jenner, rose to prominence as a member of the Kardashian clan, and a participant in the reality show, "Keeping Up With The Kardashians."
"I'm so excited about my 2019 Calendar dropping 11/23 Black Friday"
THE GOLDEN QUEEN OF CALABASAS
Jenner's photo shoot had her posing with a huge gold crown trimmed with ermine and surmounted by sparkling "diamonds."
The celebrity, who gave birth to her first child in February 2018, showed off an enviably slim figure in a skin-tight gold Naked Wardrobe dress. Her blonde hair was curled at the ends and she accessorized with dramatic golden cross-shaped earrings and necklace.
ON THE ROAD WITH BABY STORMI AND RAPPER TRAVIS SCOTT
Jenner has joined her boyfriend and father of her daughter Stormi Webster on the road, on his latest concert tour. Scott, who will be touring the United States up until December 22, 2018, on his Astroworld Tour in order to promote his third studio album "Astroworld."
SCOTT BOASTS ABOUT HIS FAMILY TO HOUSTON AUDIENCES
At his concert in Houston Texas, Scott, 26, called out a greeting to Jenner and Stormi saying:
"My beautiful wife, she came out. My beautiful daughter, she's here too."
The couple started dating in April 2017 but the relationship is not thought to have been formalized yet. Scott's reference to Jenner as "my beautiful wife" may indicate that another spectacular celebrity wedding may be on the cards soon.
Kylie Jenner's net worth is estimated to be $900 million, and she is on the verge of becoming the youngest "self-made" billionaire in history.
YOUNGEST PERSON FEATURED ON FORBES
Jenner, who is a cosmetic tycoon in her own right, appeared on the cover of the August 2018 issue of Forbes. Her net worth is estimated to be $900 million, and that she is on the verge of becoming the youngest "self-made" billionaire in history.
Her wealth is based on her 100% ownership of the enormously successful Kylie Cosmetics, her income derived from her featuring on "KUWTK" and several collaborations and endorsements of products.
KYLIE COSMETICS LAUNCHES NEW COLLECTION
Jenner has announced the launch of several new products developed in collaboration with her sister Kim Kardashian and marketed and produced by Kylie Cosmetics.
This is the second time the sisters have collaborated, the first being the h KKW X Kylie, a kit of satin liquid lipsticks in various light nude shades.
The first range was a success and sold out 2 hours after the launch and KKW X Kylie 2 promises to be equally popular.
The KKW X Kylie 2 collection consists of four new colors – two matte, one velvet, and one gloss topper. The colors range from warm rich pinks to dark sultry browns, with shade names like "Twinning Velvet", "Double Trouble", "Main Bae" and "Soul Sister."
Luscious, beautiful, and irresistible like the Kardashian sisters.
Please fill in your e-mail so we can share with you our top stories!