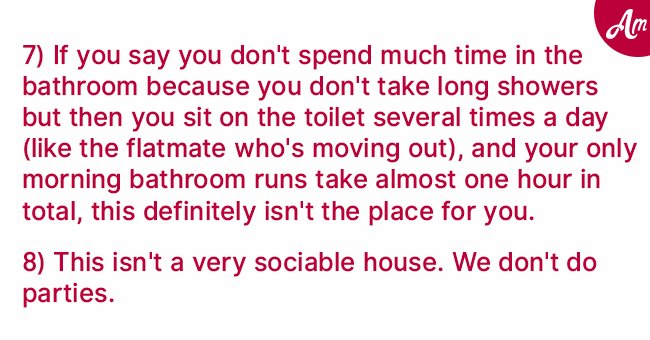 Woman lists rules for new flatmates that sparks discussion among Facebook users
Picking a new housemate may be more complicated than ever, judging by a recent post on social media.
The rising cost of housing demands that more and more people share accommodation with strangers, especially in the Big City. But if sharing with family or a loved one can be difficult, moving in with a complete stranger can be daunting.
One woman who was looking for a housemate shared the rules set down by another woman who was looking to rent out a bedroom in her London apartment on Twitter/@rxdazn on November 23, 2018.
"I don't want my new flatmate to assume that just because I spend so much time here, it's OK for them to do the same."
THE RULES OF THE HOUSE ARE EXACTING
The owner of the apartment had very detailed rules pertaining to everything, up to and including the amount of time a housemate would be allowed in the toilet.
The strict rules were supposedly the result of a recent and very unpleasant experience with what the prospective host described as "a couple of bad flatmates" and the rules were in place to ensure they were compatible.
HOUSEMATE IS NOT WELCOME BETWEEN 9 AM AND 5 PM
According to the first house rule, the apartment is out of bounds between 9am and 5pm, since the owner works from home and needs the space all to herself. Therefore, only people with "proper jobs" need apply, and she will not consider students with flexible schedules.
"Students who go to university on random days for a few hours or stay at home all day long and chill out unfortunately can't live here."

Source: Twitter/@rxdazn
SPECIFIC RULES APPLY TO OPENING AND CLOSING DOORS
The rules go so far as to explain in detail exactly how "quiet" a housemate is expected to be, and the correct (silent) method for opening and closing doors.
"You are asked to behave quietly around the house particularly in the early morning and late at night. You should use door handles rather than push the doors to slam."

Source: Twitter/@rxdazn
LIVING IN THE HOUSE WOULD MEAN RESTRICTING CONTACT WITH FRIENDS AND FAMILY
Another rule restricts the amount of time a person can spend on the telephone or on Skype talking to friends and family since the advertiser demands silence and would not want to hear "noise coming from your room all the time."
"By moving into this house you would have to agree to limit your contact with friends and family as there are restrictions placed on how long you can be on the phone or Skype."
Rules also forbid listening to podcasts, music or movies without headphones - and last but not least - laughing loudly after 11 pm is not permitted.
However, it's not all bad. The owner of the house is also a gourmet cook, who demands that their housemate not eat canned beans, drink beer or cook lentils.

Source: Twitter/@rxdazn
HOW MUCH TIME DO YOU SPEND ON THE TOILET?
One of the central issues for this person seems to be "toilet time." People with weak bladders or who go to the toilet more than twice a day are supposedly not welcome.
"If you have to run to the toilet 15 times a day or every 15 minutes, don't move in here."
However, it's not all bad. The owner of the house is also a gourmet cook, who demands that their housemate not eat canned beans, drink beer or cook lentils. The requirement is for someone "a little more sophisticated." Or perhaps suffering from OCD?
The writer of the missive ended by describing herself as "easy going" and assuring the prospective housemate that they will get on wonderfully, as long as she abides strictly by the rules.

Source: Twitter/@rxdazn
HOUSE RULES CONTRACT SHOCKS PERTH MAN
A 28-year-old man living in Perth had been living with a housemate for four months when he was handed a two-page "contract" of house rules.
This person would be the perfect roommate for the Londoner, since her "contract" specifies "Close doors gently, particularly before 6 am and after 10 pm."
Another rule is the use of headphones at all times when listening to music or watching TV. Any exceptions, the "contract" explains, must be negotiated. Parties must be discussed first and agreed to by "all parties" and must end by 12 pm.
"It's just such a strange situation, really crazy. I've tried my hardest to accommodate her, but I think I'm done."
The man is now looking for a new apartment since his housemate sent him a text at 10 pm because he was watching TV and she decided it was "bedtime."
Please fill in your e-mail so we can share with you our top stories!