Jeannie Mai bares flat tummy & tattoo in workout outfit after ex-husband shared pic of new family
Jeanie Mai showed off her flat tummy and tattoo while sporting her workout outfit. This comes after her ex-husband shared a photo of his new family. 
Jeannie Mai proves that she has nowhere to go but up now that she is newly single, as she has had more time to spend on taking care of herself. Aside from being able to love herself more, the TV host has also been spending more time with her supportive friends and co-workers, celebrating Thanksgiving with her "The Real" co-host Adrienne Bailon and her family.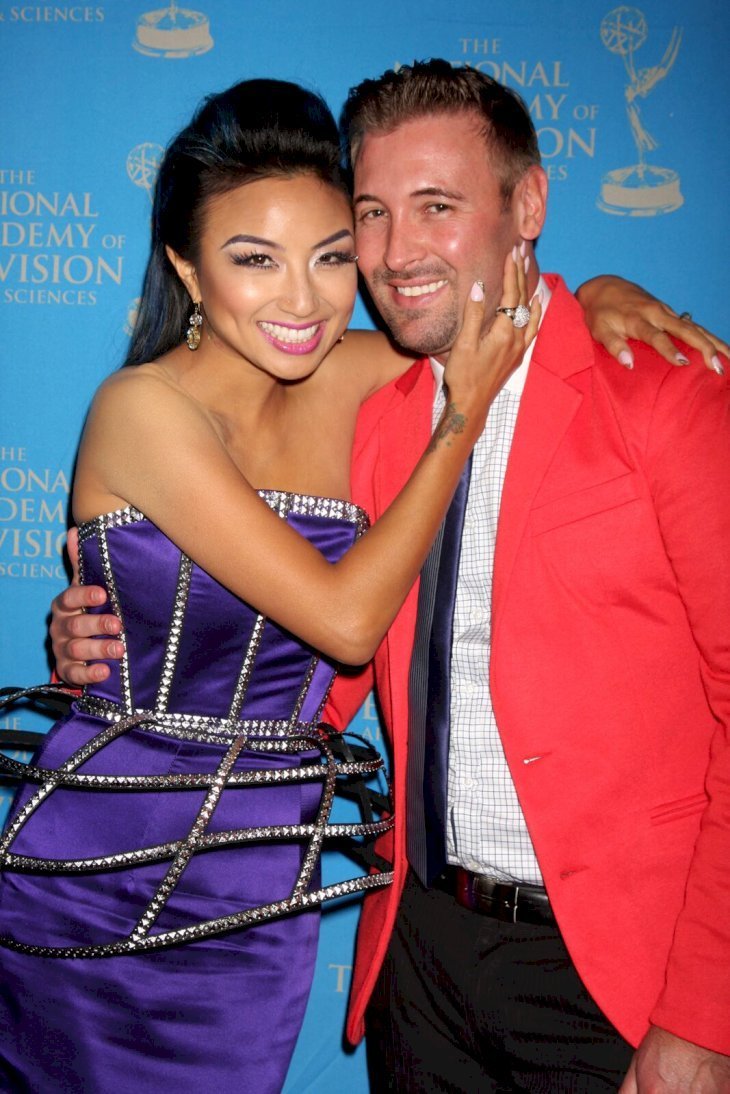 However, before celebrating the holiday with her close friends, she promoted a fitness regimen that her fans could use as their post-thanksgiving workouts. Like any other fit celebrity, Jeannie advertised a brand of detox tea while showing off her stone-hard abs covered in tattoos, while sporting a body-hugging workout outfit. 
Her chosen gym wear of the day was a white lowcut crop top which showed off a bit of cleavage while tucking in her stomach in a pair of white and blue leggings. Of course, she made sure to show off her signature smile to the camera as she clutched the tea in her hand. 
In her caption, she wrote:
"Health has been my focus these past few months which is why I'm happy to be a #teamipartner. With my crazy work schedule it's hard to fit in my goal of working out 4 times a week.  I get so tired fam..I need that extra push! This is my 2nd-month doing @teamiblends 30-day detox, and whoa, it's helped me to wake up with wayyy better energy & focus."
Mai's fitness journey began after she realized that she has been controlling the way she ate and the way she lived her life just to please other people. Now that she's learned to take care of herself, she has proudly gained 17 pounds and is feeling "more like a woman than I ever have before". 
It was through exercising that Jeannie was able to cope with her divorce more serenely, as it was an outlet for her to express her frustrations. It was there that she let loose and finally regained her confidence. 
In October 2017, Jeannie announced her divorce from husband Freddy Harteis after ten long years of marriage. Just six months after this announcement, Harteis revealed that he was already expecting his first child with his current girlfriend named Linsey Toole. 
The baby was finally born last month, and Freddy was proud to introduce her to the rest of the world on Instagram. 
"Life just took on a whole new meaning. Would never believe a little girl could melt my heart like this. I love you Emersyn Rose. Thank you God for trusting me with this little life."
Regardless of this announcement, Jeannie is glad that she finally has some peace of mind after her divorce, saying that although it was amicable at the beginning, things started going south when money started getting involved. During an episode of "The Real", she said:
"It's just crazy. You hear all the time that money can change people. Well, divorce can really change people. It's just so weird because the one thing that he would always say back then is like, 'You really, truly don't know a person until they don't get what they want.' But I never thought he would be the one to prove that to me."
After everything that happened, she even questions the timing of everything, especially since right after she announced that they were getting divorced, Harteis introduced Toole to the world and a while later, said that they were expecting a child. 
"And you know what's funny, I was never really the type to really sit there and actually calculate and do the math. But then, our Real fam comes in and goes, 'Wait, when you announce you met this person at this time and now you're together having the baby at this time, Jeannie just came out with you guys getting divorced at this time,' that's funny!"