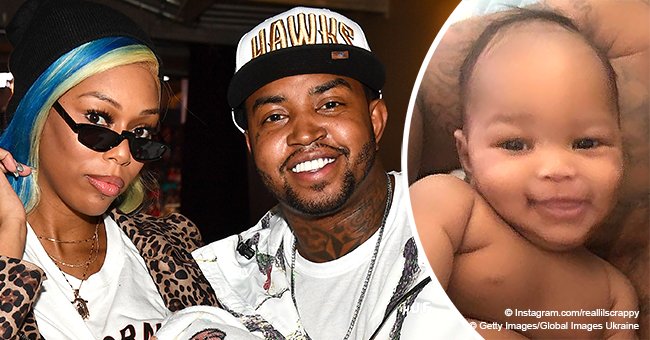 Lil Scrappy shares photo of his smiley baby who looks like wife Bambi Benson
Lil Scrappy and his newborn go shirtless in their latest "woke up like this" pic.
Lil Scrappy has just released another photo of him and his baby and it's the cutest. Father and son are both shirtless in the snap that also reveals the little one looks so much like his mother, Bambi Benson.
Scrappy is in cloud nine lately with the birth of his first child with his wife. Baby Breland was born in September and no one could be happier than Scrappy.
"Thanks to the big God and my wife and family the young Prince #Breland is here . Happy Gday you g man , I'm so happy and blessed from this experience, thanks to my wife," he wrote at the arrival of his first son.
Since then, the rapper's wife has been sharing glimpses of his bonding moments with Breland, one of which was an adorable clip of the two communicating with each other.
In the video, Scrappy and Breland are staring at each other in the bedroom. The doting dad appears to be speaking baby talk to his child who listens intently to him. Bambi gushed over the scene and asked,
"What are y'all talking about."
The bedroom seems to be Scrappy's favorite place to bond with his son. His latest photo with him was also taken while they're both in bed. Scrappy cuddles with a smiling Breland who comfortably leans on his father's chest while encased in his arms. Scrappy also drew attention to his tattoo-filled torso going shirtless like his son. Breland is undeniably his mother's child as he shares the same features as her.
"Dnt judge us we woke up like this lol, me and my son just happy bout life ya dig #FatherandSonVibes @brelandrichardson," the rapper wrote to accompany the lovely image he uploaded on his Instagram.
Scrappy is clearly celebrating every waking moment with his son who also has an older sister, Emani. The teen is Scrappy's daughter with former flame, Erica Dixon. Emani and Breland have already met. In fact, Scrappy shared a photo of the siblings and was grateful for their presence in his life. The sweet pic saw Emani cradling her baby brother, forming a connection encouraged by their father.
Scrappy's blessings abound especially after having survived a car accident earlier this year. He was driving with Ca$ino Roulette when he crashed his vehicle in Florida. Scrappy survived with a few injuries and recovered with the support of his family.
Please fill in your e-mail so we can share with you our top stories!