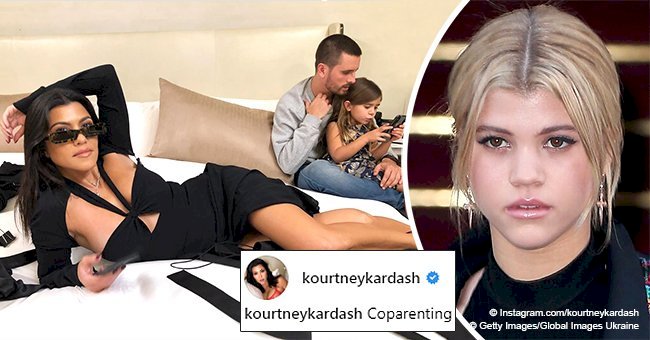 Kourtney K. might ruffle Sofia Richie's feathers with her new hot photo on bed with Scott Disick
Kourtney Kardashian recently shared a photo with her baby daddy, Scott Disick and Sofia Richie, his current girlfriend, may not be too happy.
Kourtney took to Instagram yesterday to update fans on her co-parenting progress with Scott. The exes went their separate ways in 2015 but have been doing their best to prioritize their three children- sons Mason and Reign, who turn nine and four respectively on December 14, and daughter Penelope, six.
In the new picture, Kourtney is sprawled out on a white bed. The "Keeping Up With The Kardashians" star showed off her trim figure and a lot of skin in a cut-out black dress while rocking rectangular sunglasses. Behind her on the same bed is Scott who has Penelope in his lap and looks occupied with a device in her hands.
Kourtney, 39, simply tagged the picture "Coparenting." Her sister, Khloe Kardashian and Kylie Jenner, both left comments under the family picture. "At its finest right huuuuurrrrr," wrote Khloe, while Kylie typed a mere "Ohhh" accompanied by one astonished and another heart-eyed emoji.
INTERNET OUTRAGE
So far, there's been over three million likes on the post, but a lot of users in the comments section feel the image is inappropriate especially since Scott, 35, is in a relationship with the 20-year-old daughter of Lionel Richie, Sofia.
"@letthelordbewithyou [Scott's Instagram handle] needs to have some respect for @sofiarichie [Sofia's Instagram handle] because at this point it's getting ridiculous," said one Instagram user, adding:
"He cannot continue to make her look stupid in front of the entire world. Whatever happens, I'm rooting for Sofia. Kourtney and Scott deserve to be miserable with one another."
"Come on now, this is beyond coparenting and weird," added a second person.
FRIENDLY EXES
Despite their relationship status, Kourtney and Scott have been keeping close for the sake of their children. The exes slept over in the same house this past Thanksgiving and Kourtney took to social media to express gratitude for her family, including Scott.
Alongside a photo of their family, the reality star wrote:
"I woke up this morning in bed with my children, in the same house as my sisters (minus @khloekardashian I miss you), my brothers, the father of my kids, my mommy, my grandma, my nieces, and nephew. I feel beyond grateful. Happy Thanksgiving!"
Earlier in November, the mother-of-three also shared a photo from their Indonesian vacation where Scott was seen goofing around with his sons.
Sofia is yet to respond to the picture, but one thing seems sure about Kourtney and Scott: their children really do come first.
Please fill in your e-mail so we can share with you our top stories!