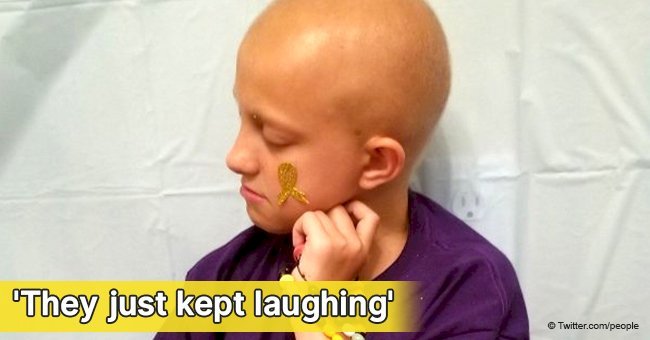 Story of 10-year-old girl with cancer being mocked and called a 'boy' at nail salon sparks outrage

These ladies in a nail salon should have known better than to mock a 10-year-old girl for looking like a boy. She was, in fact, a cancer survivor who had just completed her chemotherapy treatment.
Iliana Bellard was looking forward to spending a day with her mother, Elizabeth Bellard in a nail spa. She's been waiting a week for the day that she gets to have her brittle nails done. However, when the day finally came, she was met with mockery by the very people she thought would give her a relaxing time.
BOY TALK
While at the nail salon, the 10-year-old who sported a bald head due to her recently concluded chemotherapy treatment was taunted by the salon ladies for looking like a boy. In her mother's own recount, one of the technicians said,
"It looks like a boy is getting her nails done, everybody's going to think that a boy has his nails done."
Elizabeth added that the woman and the others with her started laughing and continued,
"I just can't get over that she looks like a boy."
MOTHER CRIES FOUL
It didn't seem to matter that they knew Iliana was bald because of her illness. Upset over the incident, Elizabeth vented out her frustration on Facebook.
"So irritated!!! Iliana and I are having a mommy/daughter date. I take her to get her nails done. She has been counting down the days for over a week. So we are here and they nail ladies keep telling her over and over she looks like a boy!! WTF? Leave my kid alone. Now she is laying her head on the table as they finish."
A FIGHTER IN THEIR MIDST
Iliana began battling large cell lymphoma in 2017 without knowing where it would lead her. It was an aggressive form of cancer that attacks the lymph nodes and doctors had no clue whether she'd survive. She proved to be a miracle because she overcame the disease. Even doctors were stunned by her recovery.
"They call her the miracle child because they weren't expecting what happened. So she's definitely a fighter," Elizabeth told WJLA.
A KIND SOUL TOO
Following her success in beating cancer, Iliana, with the help of her family set up a GoFundMe page to help put a smile on the faces of other kids with cancer. She used the account to raise money to create "Slime Boxes" containing ingredients for making slime. She intended to give this to the children so they can enjoy creating slime while undergoing treatment.
SALON BACKLASH
If only the salon people were sensitive enough to Iliana's ordeal, then they wouldn't have been the subject of a social media outrage that followed Elizabeth's Facebook post. This prompted the salon to issue a statement condemning the employees' actions.
"We do not now, or ever support any of our employees making comments to any of our amazing clients. We value each and every one who walks into our spa. We deeply apologize that this has happened."
At the time of the incident, the salon manager offered to add artwork to Iliana's nails for free to make up for its employees' behavior. A receptionist also apologized in their behalf. One of the employees has since been fired and two were suspended. The remaining employees were required by the salon owners to undergo sensitivity training to avoid such incident to recur.
DOCTOR MOCKS PATIENT
Speaking of sensitivity training, maybe this hospital physician should undergo one after she mocked a patient suffering from an anxiety attack. Beth Keegstra, a physician stationed at the emergency services department of El Camino Hospital refused to believe 20-year-old patient, Samuel Bardel when he said he was experiencing labored breathing. Instead, she mocked him and said, "He can't inhale. Wow! He must be dead."
Keegstra kept on insisting Bardel was fine despite him stating otherwise. Their back-and-forth was caught on video and posted online and it led to Keegstra's eventual suspension.
Please fill in your e-mail so we can share with you our top stories!