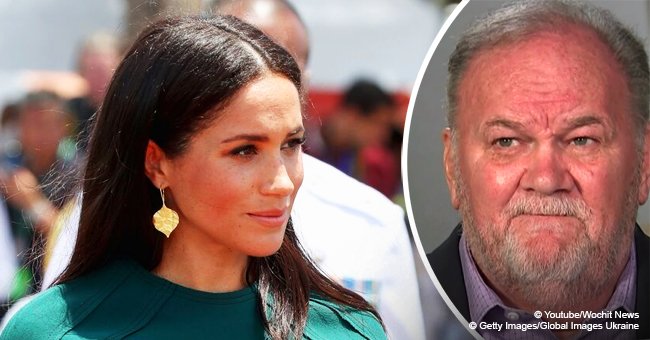 Meghan Markle's dad claims she treats him worse than a murderer, makes desperate plea to reconcile
Thomas Markle, the father of Duchess Meghan, admitted that he had made "stupid mistakes" but that he doesn't deserve the treatment her daughter has given him.
As Daily Mail reported, Thomas has apologized several times for the decisions he has taken regarding his daughter, including posing for paparazzi before Meghan and Prince Harry's wedding.
Thomas admitted to being convinced that those pictures would change the perception people had about him. However, they made him look even worse as people considered that he was trying to manipulate the couple.
APOLOGIZING
The man pointed out that he apologized to Harry on the phone and that the Prince only told him that if he had listened to him, things would have been completely different.
"I did a few things wrong, said a few things I should not have said. But some of the Royals have done far worse things… There are convicts in prisons who have murdered and committed all kinds of horrible crimes, and their daughters still visit them," said Thomas.
LEARNING ABOUT MEGHAN'S PREGNANCY
It is not the first time that Thomas has made headlines with his remarks on Meghan. In October, the man revealed that he learned about his daughter's pregnancy in a very particular way.
He was driving past the US-Mexico border at 1 a.m. when he heard the joyful news on the radio. "Congratulations are in order for America's favorite Royals. Kensington Palace confirmed that Duchess Meghan and Prince Harry are expecting their first child in the spring," he heard in the radio.
Overcome with emotion, Thomas' first thought was a flashback of the day Meghan was born on August 4, 1981.
It was the middle of the night and Meghan's mother, Doria Ragland was still asleep from anesthesia. Thomas recalled holding his daughter in his arms. He was the first person to do so. "It was love at first sight," he said.
"I was filled with love, joy and happiness for both my beautiful daughter and my son-in-law. A new baby is a blessing and I look forward to seeing a little Meghan or a little Harry," Thomas revealed.
While he is eager to meet his grandchild, the estranged relationship he and Meghan have might prevent that meeting. So far, any member of the Royal family has talked about Thomas publicly, proving that they rather ignore him.
Please fill in your e-mail so we can share with you our top stories!