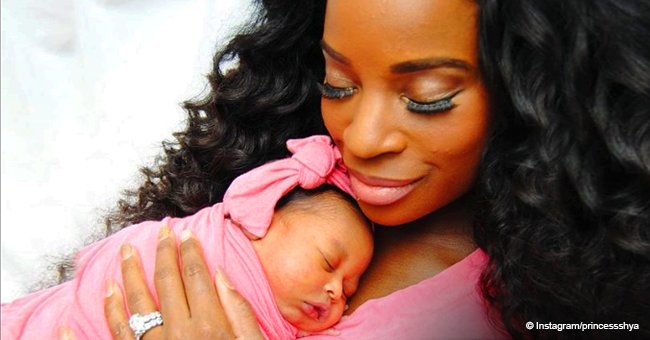 Shamea Morton and her newborn daughter rock pink outfits in heart-melting picture

Shamea Morton is relishing every moment with her newborn daughter even if it means just cuddling with her on a Monday.
Popular friend of the "Real Housewives of Atlanta," Shamea Morton is glowing in her latest photos with her brand new baby, Shya Nyambura. And why shouldn't she? She finally has an offspring she can call her own.
MOM AND HER MINI-MI
Mother and daughter matched in pink in two photos Shamea recently shared. In the first image, both have their eyes closed but Shamea is partly smiling while Shya is evidently asleep.
The second photo still features the baby sleeping but her mother's eyes are wide open staring straight at the camera. It's unclear if her husband and baby's father, Gerald Mwangi took the pic but Shamea's smile is priceless.
"Mondays with my mini" was the caption she wrote to accompany the photos.
IN AWE OF CHILDBIRTH
The new mom is clearly over the moon with the birth of her first child. She sounded just as much when she announced "I'm officially a mom!" after giving birth to her adorable baby. It was a life-changing moment for the reality star who also admitted gaining new respect for mothers after experiencing childbirth firsthand. She vowed never to take her life or her child's for granted while realizing a "birthday" meant so much more.
IN ANTICIPATION OF SHYA
Shamea first broke the news of her pregnancy in May and later announced that she was having a girl in a gender reveal party. It was a delight for Shamea to find out she was having a daughter because she says "I do girls really well." Her husband was equally excited and even began referring to their daughter as "his princess" back then.
As the anticipation for the arrival of her daughter built up, Shamea kept herself busy by posing for pregnancy photo shoots. She donned a tutu in one and matched Gerald in an African-inspired outfit in another.
Now that Shya is in her midst, we can expect more twinning moments with her daughter such as the one she recently shared.
Please fill in your e-mail so we can share with you our top stories!