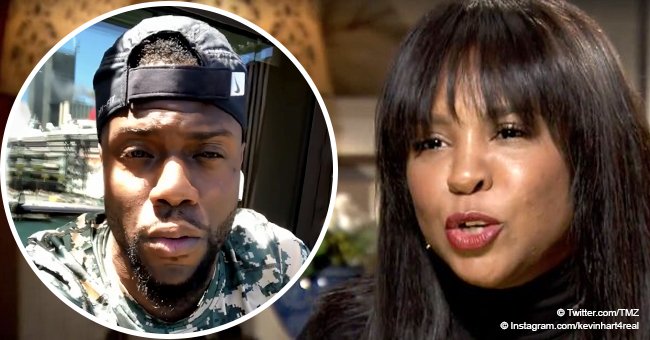 Torrei Hart emotionally defends ex-husband Kevin Hart following backlash over old homophobic tweets

Kevin Hart's ex-wife proves she still has his back when she defends him from the recent controversy that stole his chance at hosting the Oscars.
They may not be together anymore but Kevin Hart's ex-wife, Torrei Hart came to his defense after a homophobic controversy drove him to beg off from the Oscars.
WHEN THE PAST CAME BACK TO HAUNT HIM
Hart became the subject of hate after his comments about his son from his 2010 comedy special "Seriously Funny" were recently unearthed and deemed homophobic. Back then, he expressed his fears of his son turning out to be gay.
"Be happy. Do what you want to do. But me, as a heterosexual male, if I can prevent my son from being gay, I will," he said.
The son he was talking about was Hendrick, his 11-year-old with Torrei. The couple also has an older daughter, Heaven, who's 13.
HIS INITIAL RESPONSE
Hart was recently slammed for his comment and he initially tried to brush it off by responding,
"I work hard on a daily basis to spread positivity to all….with that being said. If u want to search my history or past and anger yourselves with what u find that is fine with me. I'm almost 40 years old and I'm in love with the man that I am becoming. You LIVE and YOU LEARN & YOU GROW & YOU MATURE. I live to Love….Please take your negative energy and put it into something constructive. Please….What's understood should never have to be said. I LOVE EVERYBODY…..ONCE AGAIN EVERYBODY. If you choose to not believe me then that's on you….Have a beautiful day."
HIS OSCAR'S DREAM FADES
However, when the controversy spun out of control, he was prompted to back out from hosting the Oscars in 2019. He tweeted this decision along with an apology.
"I'm sorry that I hurt people.. I am evolving and want to continue to do so. My goal is to bring people together not tear us apart. Much love & appreciation to the Academy. I hope we can meet again."
Hart was ecstatic when he confirmed he'd be hosting the Oscars.
"I am so happy to say that the day has finally come for me to host the Oscars. I am blown away simply because this has been a goal on my list for a long time….To be able to join the legendary list of host that have graced that stage is unbelievable."
HIS EX COMES TO HIS DEFENSE
Now it seems that dream will have to be put on hold. His wife Torrei, though, is upset that things went this far. She was in tears when she defended him from the backlash of his past remarks.
In an interview with Inside Edition, the supportive ex insisted Hart was a comedian and "was just making a joke." She explained,
"I don't think, of course, he wants a gay son. That's not… Of course, you want your son to be like you. But I think if our son was to turn up gay. I don't think he would be homophobic about it. He would embrace him and love him just the same."
Torrei also thinks there is no need for Hart to apologize and became emotional speaking about it.
"I stand with him. I don't think he should have apologized. I think they should still have him host. Who are they going to get? Mother Theresa? You come from the ghetto and you fight, you fight, you fight, you fight…and so for my children to see that, it makes them want to step it up even higher. He would have been a great host."
Hart may have lost his shot at the Oscars but he certainly learned he can count on his ex to have his back. Here's a clip from her emotional interview.
Please fill in your e-mail so we can share with you our top stories!