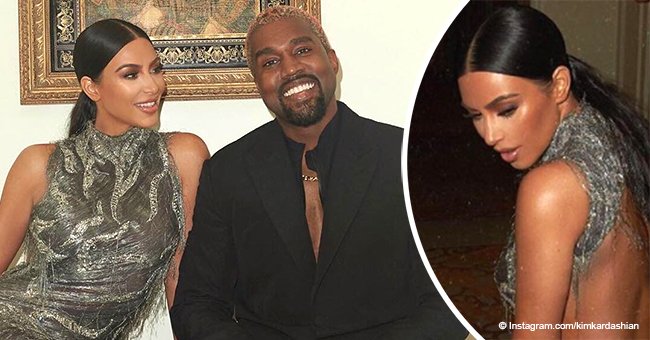 Kim Kardashian stuns the crowd in backless Versace dress on date night with Kanye
Kim Kardashian turned heads with her sparkly vintage Versace design as she enjoyed a date night with husband, Kanye West. The celebrity couple attended "The Cher Show" Broadway musical, and one of the actors called out West for inappropriate crowd behavior.
The reality star stunned fans and press donning a backless glimmer beaded silver gown from Versace's 1998 haute couture collection, a look made famous by Naomi Campbell in the Paris Fashion Week of that year. Kim completed the look with a pair of ankle-strap sandals and her long hair tied up in a low ponytail.
Her rapper husband, on the other hand, looked smart in a black suit paired with a pair of his unreleased Adidas Yeezy Boost 700 VX sneakers.
Kim and Kanye were among the dozens of celebrities that attended the opening night of the new Broadway show inspired in Cher's life. Kardashian is a huge fan of the singer and even dressed up like her for Halloween last year.
The mother of three had only good things to say about the show, tweeting a day later: "The Cher Show was sooooo good! I learned so much about her that I didn't know. She really opened up about her life, and all of the actors were sooo good! You all have to check it when in NYC. We had the best time!"
KANYE'S LACK OF MANNERS
But while Kim was clearly engrossed on the spectacle and paying attention, Kanye got a public call on real time from Jarrod Spector, who plays Cher's ex-husband Sonny Bono. The actor seems to have spotted 'Ye from the behind the stage checking his phone instead of watching the show, which is disrespectful.
"Hey @KanyeWest so cool that you're here at @TheCherShow!" Spector wrote, "If you look up from your cell phone you'll see we're doing a show up here. It's opening night. Kind of a big deal for us. Thanks so much."
West, known for his occasional Twitter rants, didn't reply immediately, and according to Kim, he was really embarrassed afterward. "He was actually taking notes because he loved the production so much," the "Keeping Up With the Kardashians" star told E! News.
West eventually replied, apologizing for his lack of manners and praising Spector for his performance, as he said:
"the dynamics of Cher and Sonny's relationship made Kim and I grab each other's hand and sing "I got you babe" please pardon my lack of etiquette. We have so much appreciation for the energy you guys put into making this masterpiece."
KANYE'S ERRATIC BEHAVIOR
West made headlined again because of a new Twitter rant on Thursday. This time, the star had a lot to say about Drake and Travis Scott, Kylie Jenner's boyfriend.
The Yeezy star accused Drake of allegedly threatening his family and dissing him on Travis Scott's record "Astroworld." According to his tweets, Drake is not mad at Drake or Travis and only has love for them, but he will not tolerate the "In My Feelings" rapper trying to "play gangsta" with him.
Kim also got involved in the spat, tweeting directly to Drake to "Never threaten my husband or our family. He paved the way for there to be a Drake."
While some fans consider Kim's move was bold and she should stay in her lane, others are applauding the star for standing up for her man and their family.
Please fill in your e-mail so we can share with you our top stories!