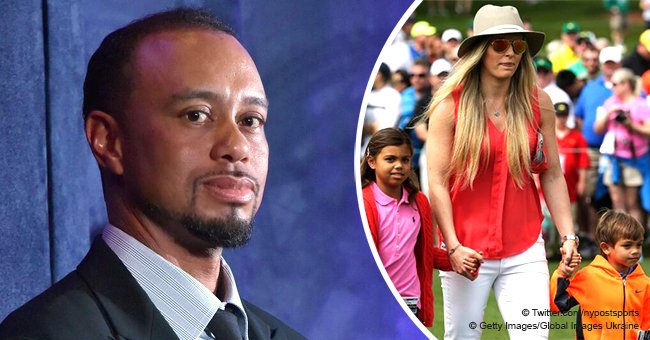 Tiger Woods' ex-wife and mother of his 2 kids Elin has reportedly moved on to a billionaire
Tiger Woods failed marriage to Elin Nordegren was in the eye of the media after he admitted being serial cheater in 2009. These days, the former couple has a friendly relationship for the sake of the kids, and each has moved on with different partners.
Woods, 42, has always been considered one of the best golfers of our time, but he has endured really tough times, both in his professional and his personal life.
His reputation was tarnished back in 2009 when more than a dozen women came forward claiming to have had affairs with him while he was married to Elin Nordegren.
He met Elin Nordegren in 2001.
She was working on a high retail store when she met the wife of Swedish golfer Jesper Parnevik, who then hired her as a nanny and took her to the U.S. There, Parnevik introduced her to Woods, and they hit it off.
They got engaged in 2003 and married in 2004 at the Sandy Lane resort in Barbados.
THE FALLOUT
Flash forward six years later, Woods got involved in the cheating scandal that was deemed as the highest betrayal by the public back then, when cheating scandals were not at the order of the day like today.
A car accident involving a fire hydrant, and Elin destroying the rear window of the car with a golf-club post-accident, pushed Woods to stand on a crossroad with his career, reputation, and family on the middle.
He decided to come clean in an infamous press conference where he admitted his faults and announced he would be retiring for a while to try and fix his family.
However, his efforts were in vain, and after six years of marriage, he and Nordegren divorced in 2010.
"We both know that the most important things in our lives are our kids. I wish I would have known that back then."
The couple has two kids, daughter Sam Alexis, born in 2007, and son Charlie Axel, born a few months before his parents' life gave a 180° twist.
FOR THE SAKE OF THE KIDS
Woods and Norbregen's relationship suffered a lot because of his infidelity. The former Swedish model admitted to People in 2014 that she went through an intense therapy after the split and was still working on herself.
But eventually, they managed to establish a friendly relationship for the sake of their kids.
"I have moved on, and I am in a good place," Nordegren said. "My relationship with Tiger is centered around our children, and we are doing really good – we really are – and I am so happy that is the case. He is a great father."
She also admitted that being the daughter of divorced parents, she never doubted Woods and her would eventually come to patch up their relationship. "That was always my dream, that the kids can have two loving parents that show respect for each other. And I feel that's what they have," she added.
WOODS' REGRETS
Woods confessed on a piece for ESPN in 2014 that he wishes he had built the bond he has now with Elin when they were together. And when asked on Time magazine how he would change the events of 2009, he said:
"In hindsight, it's not how I would change 2009 and how it all came about. It would be having a more open, honest relationship with my ex-wife. Having the relationship that I have now with her is fantastic."
He called Elin his "best friend" and says they can pick up the phone and talk about everything and anything all the time.
"We both know that the most important things in our lives are our kids. I wish I would have known that back then," he added.
LIFE AFTER TIGER WOODS
Elin got a divorce settlement of $100 million, and the first thing she did was build a 21,000-sq.-ft. North Palm Beach mansion, only 25 minutes away from her ex-husband's home. She put the mansion on the market earlier this year for $49.5 Million.
She also graduated from Rollins College with a degree in psychology, and even though she never attended campus, Elin was invited to speak at her graduation.
"I want to continue to study and learn, but I am not exactly sure how yet. My passion has always been psychology, but my interests continue to broaden," she told the Orlando Sentinel back then.
On top of that, Elin has been dating billionaire Chris Cline, a coal-mine owner, since 2013.
The man's estimated net worth is $1.9 billion, according to Forbes. Cline was Nordegren neighbor, and a mutual friend introduced them.
"Elin was introduced to Chris by a local friend because they seem to have a lot in common," a source told PEOPLE. "They both have children, like to keep their personal lives quiet, believe in philanthropy, and enjoy outdoor leisure activity."
So, is safe to say that Elin is living her best life now.
THE REBIRTH
As for the kids, Sam and Charlie, they love their dad to death.
Woods revealed that he took one for the team and made sure to tell the kids about the situation involving their family, to protect them from outsiders' influence.
They never got to see the Tiger Woods that the world knew: an unbeaten champion on the golf court and the image of several advertisers from some of the most renowned brands back then. He said:
"I want it to come from me so that when they come of age, I'll just tell them the real story. But meanwhile, it's just, "Hey, Daddy made some mistakes. But it's O.K. We're all human. We all make mistakes."
However, now that Woods is back on the game, and proving he still got the abilities that led him to worldwide fame despite going through three different back surgeries, the kids will surely watch the rebirth of a legend.
Many critics and experts didn't consider possible for Tiger to return to the golf scene and do good, but he proved everyone wrong after winning the Tour Championship last September.
Woods is also doing good in his personal life. He's been dating 33-year-old Erica Herman for a while now.
Herman, a former manager for Woods' restaurant, "The Woods Jupiter," had the eyes of the nation on her when Woods kissed her in front of the cameras while celebrating his victory at the "FedEx Tour Championships," the first since his 2013 run at the "WGC-Bridgestone Invitational."
Please fill in your e-mail so we can share with you our top stories!