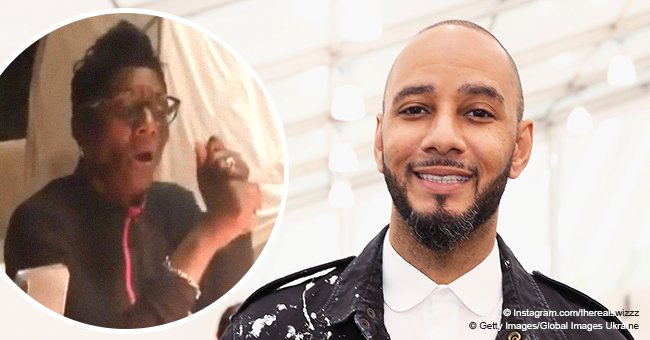 Swizz Beatz's mom wows with her singing voice in recent video with family

Swizz Beatz gathers his mother and blended family around the fire for a group singing captured on video.
For some families, Christmas is about gathering around the fireplace and making quiet memories together. For Swizz Beatz, Christmas this year involved the family sitting around the fire and singing a tune.
CHRISTMAS JAMMING
Beatz shared a video of his family who warmed up around the fire and entertained themselves by singing. The rapper provided the backup music from his mobile phone and allowed his young-looking mother who sat next to him to start. It was clear by listening to his mother sing that he got his musical genes from her. The lady could clearly carry a tune. He proved in the past that she was quite the dancer too by sharing clips of her dancing by herself and with him on his Instagram.
Joining his mother in singing was his son Egypt whom he shares with wife Alicia Keys. After a few verses, his other son, Kaseem with his ex-wife, Mashonda Tifrere took over.
"By the fire listening to all the #Zonebeatchallenge tracks with my family," the music producer wrote to caption the clip. He also took the opportunity to remind fans of the contest he launched and what's in store.
"I can't wait to give 5k to the winner stay in your Zone this holiday send in your zone! Shout to @therealfrankmoses this is fire but you didn't win yet the people will choose y'all hear mama"
BLENDED TO PERFECTION
Beatz's latest clip is also a reminder of how perfectly he executed the idea of a blended family. Kaseem and Egypt's mothers had a strained relationship in the past. Kaseem's mother was still married to Beatz when he hooked up with Alicia. It became a bitter rivalry between the two.
But that changed when they worked things out for the sake of their children they now happily co-parent together. Mashonda even wrote a book about the secrets of having a successful blended family which Beatz and Alicia fully supported.
There's no doubt it was a joyful Christmas for Beatz and his family without the burden of a warring wife and ex-wife, something not many families are lucky to have.
Please fill in your e-mail so we can share with you our top stories!