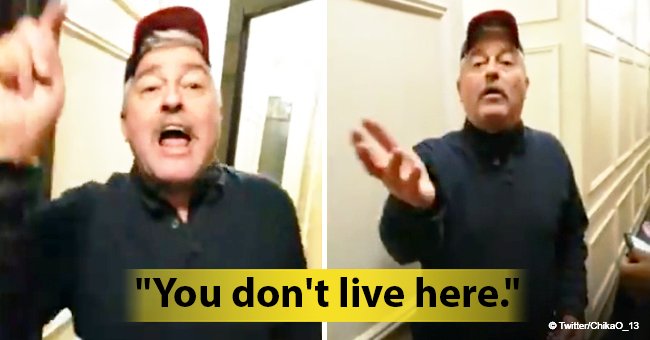 'What are you doing in my building?' White man harasses Black neighbor waiting with friend
On a new episode of "white people harassing black people for no reason," a man was interrogated at his building's door by a neighbor who demanded to know what was he doing there and refused to believe he lived there.
It happened on a four-store building in the Upper East Side of New York, considered one of the wealthiest areas of the city. Chika Okafor, a producer for the sports website Bleacher Report, was waiting for a Lyft on the lobby of his building alongside his friend Cassius Flemming, also black, when a white man approached them.
"I'm not going to change how I live my life based on this guy's inappropriate behavior."
THE INCIDENT
"What are you doing in my building? You don't live here" the man states, while Flemming keeps insisting t his friend lives in the floor above, and Okafor manages to stay calm despite the man's agitated behavior.
The unidentified man said that he had lived in the building for 27 years and has never seen Okafor before and demanded to know in what apartment he lived, even though Okafor repeated several times that the information was none of his business.
"As you can see, he thought that he was entitled to know who I was and where I live," Okafor wrote on Twitter. "The arrogance is appalling but honestly, not surprising because far too many times people of color have been victims of this kind of behavior."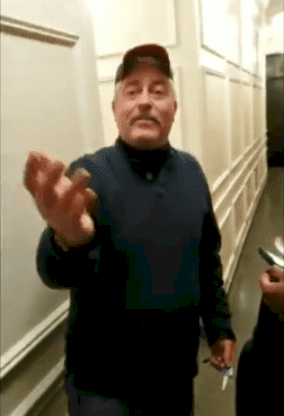 Source: Twitter/ChikaO_13
"Oh, you're the smooth king," the man says sarcastically, clearly bothered by the fact he couldn't rile up Okafor. "I can be as cool as you, dude. I can be just like you."
Eventually, the car they were waiting for arrived and Okafor and Flemming walked out of the building without major incidents. However, Flemming made sure to tell the man, dubbed as "Hallway Harry" by social media users: "Where's your MAGA hat? Why are you bothering us? You left your MAGA hat upstairs, man."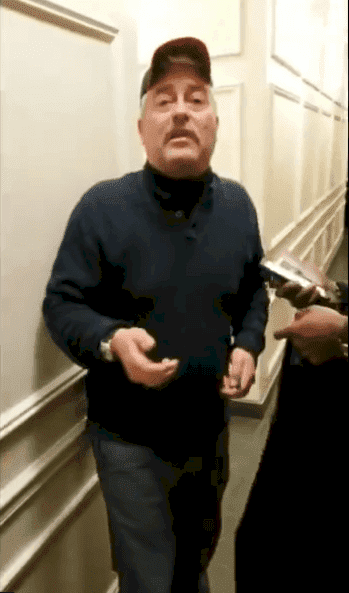 Source: Twitter/ChikaO_13
PEOPLE'S REACTIONS
The video has been seen over 1 million times and has caused outrage for the racial profiling that took place. People were quick to praise Okafor for the way he handled the situation, and others encouraged the man to found out the neighbor's identity and share it online.
"What was with him criticizing you for being calm, collected and cool," wrote one Twitter user. "These people can't stand that a Black man can be more dignified and cooler than they will ever be."
And another added:
"Seriously this is getting old. We exist. We are rich and intelligent af and live in affluent neighborhoods. Shop at the most expensive boutiques and attend the most prestigious schools. We can have whatever they have and mind our damn business while living our best life!"
THE OUTCOME
Okafor told the New York Times that he felt insulted by the encounter. He believes that the man's questioning suggested that he and his friend threatened the building's safety for being black and on top of that, that it was unlikely for him to lend an apartment in that side of the city being a person of color.
He added: "It's the Upper East Side. It's considered to be one of the wealthy parts of Manhattan. It's a nice apartment."
Okafor revealed that he tried to make a complaint with the building's manager, but she said she couldn't address personal matters and suggested to report the incident to the police if he wanted to pursue legal action.
When asked if he's thinking of moving out after the encounter, Okafor refused the possibility. "I'm not going to change how I live my life based on this guy's inappropriate behavior," he said.
Unfortunately, Okafor's case is just the last of a string of racial profiling incidents that have been plaguing the country in the past year. It almost looks like every week a new episode is reported on social media, and it's always white people harassing or even calling the police on black people for doing every day life's things.
WHITE WOMAN FOLLOWED MAN TO HIS APARTMENT DOOR
Back in October, D'Arreion Toles went through a similar situation when a white woman, later identified as Hilary Brooke Mueller, blocked his path and refused to move out of the way so he could enter his building.
Mueller demanded to know in which complex Toles lived, and then asked to see his key fob. When he refused and politely asked her to move out of the way, forcing his way into the building, she followed him on the elevator and through the hallways all the way to his door.
There, she tried to backtrack by stating she just wanted to introduce herself, but Toles was quick to dismiss her, asking her to "never do that again, you look stupid on video."
However, the situation didn't end there. About 30 minutes after he arrived home, Toles said a police officer came to his door and told him that Mueller felt "uncomfortable" with him being there. He explained the situation to the officer and luckily nothing major happened.
Mueller was later fired from her job at Tribeca-STL, a small real estate company after they saw the video.
"The Tribeca-STL family is a minority-owned company that consists of employees and residents from many racial backgrounds," the company said in a statement. "We are proud of this fact and do not and never will stand for racism or racial profiling at our company."
Please fill in your e-mail so we can share with you our top stories!
news.AmoMama.com does not support or promote any kind of violence, self-harm, or abusive behavior. We raise awareness about these issues to help potential victims seek professional counseling and prevent anyone from getting hurt. news.AmoMama.com speaks out against the above mentioned and news.AmoMama.com advocates for a healthy discussion about the instances of violence, abuse, sexual misconduct, animal cruelty, abuse etc. that benefits the victims. We also encourage everyone to report any crime incident they witness as soon as possible.