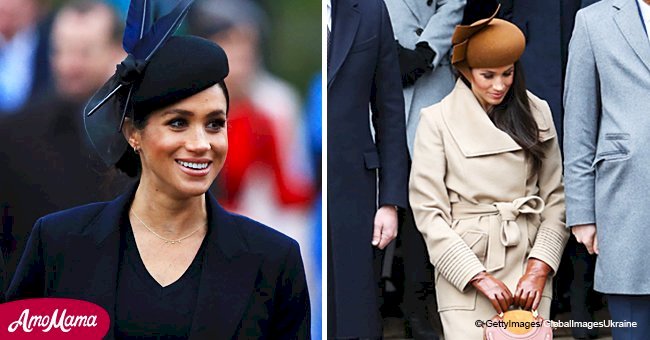 Meghan Markle Truly Improved Her Curtsy Skills Since Last Year, Doing It Perfectly This Time.

It's Royal custom to learn how to greet. A lot of new additions to the royal family usually have this problem, especially those without any royal history.
The Duchess of Sussex had very poor curtsy and had to learn from the beginning of her engagement to Prince Harry. She had to learn the royal dining etiquette, proper behavior for dinners, the do's and dont's of royal fashion; the royals are not allowed to wear black except they are in mourning.
Follow us on our Twitter account @amomama_usa to learn more
And trust Prince Harry to be there for her, he's been teaching the Duchess, princess lessons; how to address diplomats, how to speak to other royals and most importantly how to curtsy properly.There's a precise manner to curtsy, and it's also important to know the appropriate situation where that proper curtsy would apply.
Once the queen is being honored, one must without question also submit to her authority and thankfully Meghan Markle is lucky to have Prince Harry giving her these tutorials.
Meghan needed the tutorials in the just concluded birthday celebration of the queen on June 9, where a video which was recorded by a fan went viral. The video captures the moment where Prince Harry was telling Meghan Markle when to curtsy to the queen.
And although Meghan Markle's curtsy was not so perfect then, it came with such natural grace; she's a fast learner.
Fast forward to almost a year later, and we can say, Meghan Markle, Duchess of Sussex is a professional. She took nearly everyone by surprise with her effortless grace at the St Mary Magdalene church this Christmas as she knew exactly when and how to curtsy.
Meghan is much loved. In a recent poll, she was voted one of the favorite royals, beating even Kate Middleton and Prince William.
Even the queen is rumored to have taken a particular liking to her, and it could be that the queen appreciates are keen willingness to learn about their age-long traditions. Meghan is pregnant with Harry's child
Please fill in your e-mail so we can share with you our top stories!