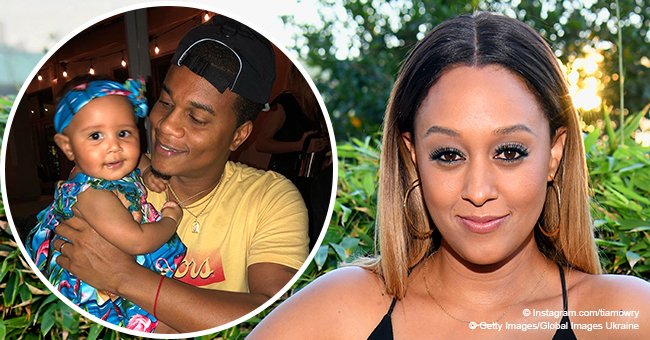 Tia Mowry's husband cuddles with baby daughter Cairo who steals hearts in flamingo-printed dress
Tia Mowry, the actress best known for "Sister, Sister," took to Instagram to share a photo showing her beautiful daughter smiling in a flamingo dress.
In the image, Tia's husband, Cory Hardrict, appeared wearing a yellow shirt and a cap while holding his daughter, Cairo Tiahna, in his arms. The baby was wearing a colorful flamingo dress and a matching headband.
One of the aspects that attracted more attention to the post was how similar Cory and Tiahna look – especially their smiles. For the caption, Tia only wrote, "Aloha," followed by a rainbow emoji.
PEOPLE'S REACTION
As soon as she uploaded that image, her followers took to the comment section to their thoughts.
"Babygirl looks so much like Dad," wrote one user.
"Such a cutie looking just like Tia, but a daddy's girl!" added a second follower.
"Oh my goodness. Tia is having fun dressing baby girl! Too cute. And hangin' with Dad! Daddy's gitl! [sic]," pointed out another one.
CAIRO'S OUTFITS
Tia has proved that she loves dressing up her daughter as Cairo has appeared in her mother's social media accounts wearing unicorn onesies, tutus, Christmas elf outfits, and more.
One of the most recent pics that Tia uploaded portrayed her wearing a loose beach dress and black sunglasses while holding Cairo. The highlight of the post, again, was the baby as she was wearing a pink swimsuit with a pineapple design all over it, a matching bandana, and pink sunglasses.
THE FAMILY'S HOLIDAYS
For the holidays, both sisters - Tia and Tamera Mowry - took their families to Hawaii wherein they are having the time of their lives. They have been posting images showing their family trip on social media.
Tia uploaded one posing next to her sister wearing similar sunglasses at the beach. For the caption, she revealed that residents had greeted them with "Welcome Home" as they grew up in Hawaii.
The aspect that attracted more attention to the post was how similar Cory and Tiahna look – especially their smiles.
"My mind is constantly filled with childhood memories as we hit the town, the beach, etc. What's so beautiful now is, we get to share our love for Hawaii with our children and our husbands and it's like we never left. Hawaii I am in love with you!" added Tia.
One of the best pics of the trip so far was a snap of all four of the twin sisters' children, Cairo, Cree, Aden, and Ariah. They all grinned at the camera except for baby Cairo, who was pouting instead, looking just like a tiny diva.
"Someone should have taken a picture of the parents trying to take a picture of them. This was a moment! Gawd I love these children. What a blessing," admitted Tia in the caption.
Please fill in your e-mail so we can share with you our top stories!