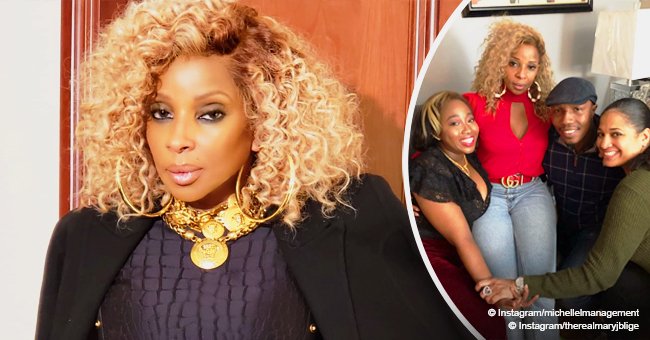 Mary J. Blige stuns in tight jeans and plunging red top in Christmas photo with her 'sister'

Singer and actress Mary J. Blige appeared wearing a beautiful ensemble next to her "sister" to whom has shared 25 years of "sisterhood."
The Instagram account Michelle L Management uploaded two photos of Blige. In the first one, Michelle, the owner of the account, appeared flashing her smile next to the singer, who was wearing a red top and big rounded earrings.
Michelle, on the other hand, opted for a black top and little pieces of jewelry. For the caption, she admitted to spending Christmas Day with her "big sister" Blige and the Blige family.
Apart from that, she pointed out that they had been "sisters" and friends for 25 years and that they still laugh For the second image she uploaded, Blige's outfit was portrayed in full display.
Not only she put on a gorgeous red top, but also tight light blue jeans and a Gucci red belt that gave her look the final chic touch. Another striking aspect of the image was the singer's beautiful hair.
BLIGE'S VERSACE OUTFIT
It is not the first time that Blige has posed in a beautiful outfit. Earlier this month, the singer uploaded a slideshow wearing a striking Versace ensemble and astonishing pieces of jewelry.
In the first image, Blige posed wearing a form-fitted black dress that highlighted her slim waist. Apart from that, she wore a large, black coat covering her shoulders. The singer's blonde hair, golden necklaces, and bracelets attracted a lot of attention.
For the second image, Blige removed the coat and put her arm tattoos on full display. Her unique, colorful boots were the highlight of the post. In the caption, the singer only wrote, "VERSACE."
HER EULOGY
After Kim Porter's passing on November 15, Blige was chosen to give a eulogy at the funeral due to the close relationship both women used to have. While doing so, the singer broke down in tears.
In her tribute, Blige revealed that Porter tried to protect her from getting into a doomed marriage. The singer added that Porter had been laying down all the warning signs for her, but she couldn't notice them.
BLIGE'S RELATIONSHIP
Blige was married to her manager Martin Isaacs from 2003 to June 2018, though they parted ways in July 2016. One of the principal aspects that led to their divorce was an affair Isaacs had. The man allegedly spent more than $420,000 during the marriage on travel charges that involved the mistress.
Unfortunately, the divorce process was long, bitter, and public. It almost ruined Blige financially, which is probably why she talked about Porter trying to keep her away from walking down the aisle into a "doomed marriage" with Isaacs.
Please fill in your e-mail so we can share with you our top stories!