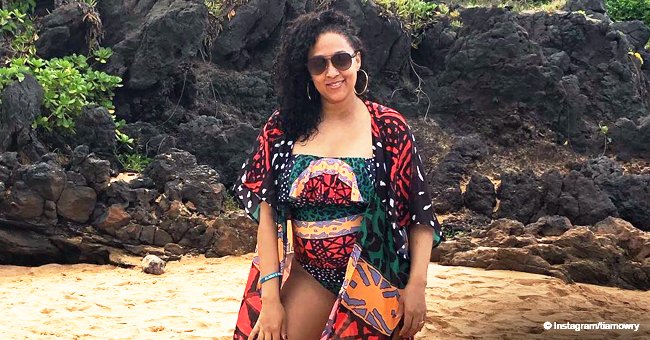 Tia Mowry flaunts her post-baby body in colorful swimsuit during family trip in Hawaii
Tia Mowry is spending a well-deserved holiday vacation with her family in Hawaii, and she's been sharing lovely pics of her kids and husbands on Instagram. However, a swimsuit pic has fans in awe, as Tia shows off her post-partum body with pride.
Tia Mowry has been promoting self-love and a positive body image since she gave birth to her daughter Cairo last May, and her most recent pic from Hawaii proves that her hard work is paying off and she's slowly but surely recovering her pre-baby body.
SWIMSUIT-CLAD POST-PARTUM BODY
In the pic, Tia donned a colorful off the shoulder one-piece swimsuit with a matching bathrobe of the same fabric, sunglasses and silver hoop earrings. She stood barefoot in the sand with her hair swiped to the side and flaunted a small smile to the camera.
Mowry captioned the pic:
"This picture means a lot to me. I stood here in this exact same place more than a little over a year ago, and I was hoping and praying for a baby. To be here this year with her in tow to see this wonderful island is a constant reminder to never ever give up on your dreams."
Fans immediately filled her comment section with praises on her good looks and slimmer figure. "Gurl the suit is everything!! You look stunning!" wrote one user.
Another added, "Love it! The look...the thought...everything!" and a third one said "You go, girl!! You have motivated me to work out!! Thanks for doing it the natural way."
KEEPING IT REAL
The "Sister, Sister" actress has been honest about her struggles to snap back and recover her body after giving birth, but she has made it in a way that teaches other future moms that is ok to have a few extra pounds after bringing a new life to the world.
In November, Tia took her time to update fans on her post-partum journey, revealing that, like many other moms she was affected by a condition that while common, is not that known among pregnant women until they get it.
She explained:
"Do I still have a little pouch? Yes. Ever heard of #DiastasisRecti? It's when the abs separate during pregnancy. Shining a spotlight on this because I had never heard of it. Have to go hard with core work to restore."
Despite her struggles, Tia has made sure to let fans know that she embraced her body and is grateful for being able to bring baby Cairo into the world after her issues with fertility.
HOLIDAYS WITH THE FAMILY
Now, the adorable baby is 7-months-old is has been enjoying some time on the beach with her parents, aunt, and cousins.
Tamera Mowry and her husband Adam Housley joined Tia and her family in Maui, Hawaii. The twins grew up in the island, and Tia explained on the caption of a beautiful selfie with her sister, how good it was to go back home and share the beauty of Hawaii with their respective kids.
Cairo and her brother Cree also enjoyed the company of their cousins, Ariah and Aden, while their parents struggled to get the perfect shot of all the children together.
"Someone should have taken a picture of the parents trying to take a picture of them. This was a moment! Gawd I love these children. What a blessing," Tia captioned a lovely shot of all the kids together on the beach.
Cairo's personality is already shining through, and fans are excited to see more of the baby and Tia's body progress in the new year.
Please fill in your e-mail so we can share with you our top stories!