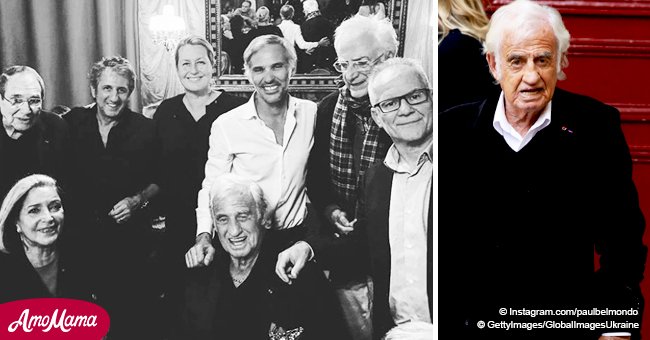 Jean-Paul Belmondo's son is 55 years old now and he looks so similar to his famous dad
Paul Belmondo is the spitting image of his famous father, Jean-Paul Belmondo.
Now 55 years old, Paul reminds many of the legendary French actor because of their striking resemblance.
Paul attracted massive media attention after he was romantically linked to Princess Stephanie of Monaco.
Paul is Jean-Paul's only son with Elodie Constantin. He has two sisters, Patricia and Florence. Patricia died in a fire in 1994.
Jean-Paul and Elodie, a dancer, had an on-and-off marriage until their divorce in 1966, 13 years after they married.
Now 85 years old, Jean-Paul is one of the world's most recognized actor.
A RACECAR DRIVER
Paul tried dabbling in acting, starring in a number of French movies, including "Belmondo par Belmondo", "Itineraire D'un Enfant Gate", and "Les Miserables".
But he didn't exactly follow in his father's footsteps. He is a Formula One racecar driver who raced for the March and Pacific Racing teams.
Paul has also joined a dozen times in the 24-hour Le Mans races and also several times in Dakar Rally and in the Andros Trophy.
Paul and his wife of 28 years, Luana Belmondo, share three sons, Alessandro, Victor, and Giacomo.
Before marrying Luana, who is a model-turned-TV chef and broadcaster, Paul attracted massive media attention after he was romantically linked to Princess Stephanie of Monaco.
ANOTHER ACTOR WITH LOOKALIKE CHILDREN
Another actor who has a striking resemblance with their offspring is Dondré Whitfield, who recently shared a photo of him with his grown daughter and son.
The 49-year-old Hidden Hills star proudly posed with his daughter Parker Richardson and son Dondre Terrell, after being appointed an ambassador of an aviation company. They had their picture taken during the event officially announcing his appointment as an ambassador of Delta Air's 2018 Dream Flight.
He captioned the Instagram photo: "@delta is doing so much in the way of creating the next class of black and brown aviators."
"Along with OBAP (Organization of Black Aerospace Professionals) they are doing the work necessary to make aviation more diverse and inclusive," he added. "I was selected as an ambassador and of course, brought my babies. This truly is a dream experience. #2018DreamFlight."
Please fill in your e-mail so we can share with you our top stories!