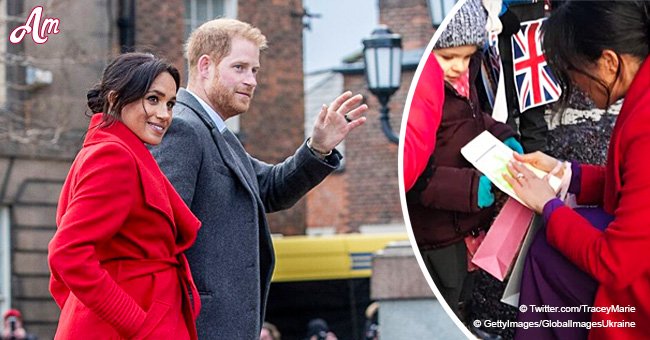 Meghan Markle and Harry share a sweet interaction with blind kids, letting them feel their faces
The Duke and Duchess of Sussex made their first public appearance for the new year. Some of their younger fans got a real treat for the occasion.
On Monday, Meghan Markle and Prince Harry passed through Hamilton Square as they made their way to Birkenhead. Their presence drew a crowd.
Among the fans were some blind children who wanted to meet the royal couple. Though they couldn't see them, the kids got to meet Markle and Harry in another way.
According to PEOPLE, the kids were able to touch the faces of the couple who bent down to accommodate them. Local Member of Parliament Frank Field described what happened.
He reportedly said:
"In the square, there were some blind children who wanted to touch the royal faces because they couldn't see them. Both of them went down on their haunches so the children could touch their faces."
Cameras captured the pair shaking hands with the young ones. One Twitter user uploaded her niece's experience. Tracey Marie has a blind niece.
She captioned the video:
"Even sweeter. The little girl with the grey hat with a black bobble (My niece who is blind) Harry held on to her ensuring she was safe. Meghan went down on the floor to take a card she had made for her in Braille. They'll make great parents."
Markle and Harry's fans couldn't agree more. One of Markle's younger fans even suggested a name for what she thinks might be a girl.
Megan Dudley, seven, told reporters:
"I asked her whether she would call her baby Amy if she has a girl, and she said, 'That's a really pretty name, I like it. We'll have to think about it.' "
The two members of the royal family went on to join veterans and members of the Tomorrow's Women Wirral organization at Birkenhead.
Markle was recently given the patron title for four organizations as she takes on more responsibility. Of course, her biggest responsibility is yet to arrive.
The pregnant Duchess is expected to give birth in April or May this year. Some changes will have to be made before the baby's arrival, however.
The biggest one might be her and Harry's move to Frogmore Cottage. The location is still being renovated before they settle in.
Some other options that the couple might have had are Cotswold Cottage, a country home worth £2.5 million which houses four bedrooms.
Speculation has also been made about Luckington Court where Harry lived when he was younger. York and Adelaide Cottages were two other places the Queen was reportedly prepared to gift to Markle.
Meanwhile, royal family fans are eager to see the new baby run around Frogmore. They just wonder if it will be a boy or a girl. Markle responded to a question about the baby's sex earlier this week.
When nine-year-old Kitty Dudley asked her what she was having, Markle said: " 'We don't know whether it's a boy or girl, we are keeping it as a surprise.' "
We're sure that the couple will have a tremendous love for their little boy or girl. We pray that Markle has a safe delivery and the child is healthy.
Please fill in your e-mail so we can share with you our top stories!