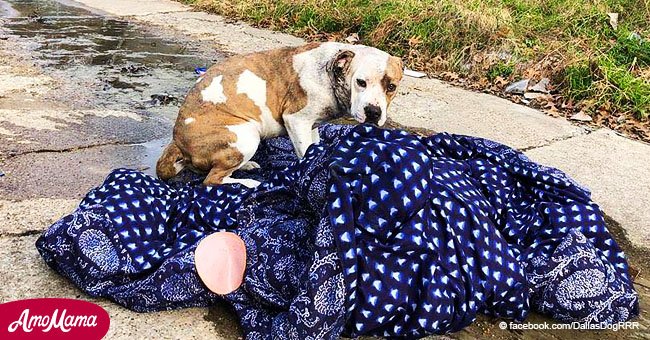 Sad dog abandoned in filthy neighborhood refuses to leave her blanket
This sweet little dog was abandoned next to a blanket by the most important people of her life. Fortunately, she was rescued and now she has a new opportunity.
The family of this dog now called Camilla decided to move and leave her behind their house in a Dallas neighborhood as if it were garbage.
She was left completely alone, her only consolation was a blanket that she clung to, she seemed to be hoping they would come back for her, but it was not like that.
This sad situation occurred on the eve of the New Year. Read more on our Twitter account @amomama_usa.
Fortunately, Marina Tarashevska, co-founder of the Dallas DogRRR rescue center, went for a walk in her neighborhood and realized what the dog was going through.
Patti Dawson, executive director of Dallas DogRRR told The Dodo:
"It was really cold and rainy, and the dog was lying on her blanket - and she would not leave it," Patti Dawson, executive director of Dallas DogRRR, told The Dodo. "I think she was still thinking her family would come back. She was in that stage of, 'I'll just wait here. This is familiar.'"
The people in the neighborhood were worried about Camilla, and for her part, Marina started with a rescue plan, but it was not easy.
Patti explained that every time Marina approached that blanket, the dog ran out. When Marina retired, Camilla returned to the blanket and that is why the idea of using it as a hook came up. The woman slowly pulled the blanket to guide the dog to her house.
After doing this for about an hour, the blanket, and Camilla, arrived at the backyard of Marina's house. Once there, the woman was able to grab the dog to take her to a shelter.
Marina found injuries to Camilla's neck and ears and didn't hesitate for a second to take her to the vet. It was necessary to perform surgery on Camilla on her neck and is now in the process of recovery, both physically and emotionally.
For now, she will stay with her temporary family until she is completely healthy, and can be adopted.
This reminds us of the story of Wall-E, a dog that was surrendered at a shelter with all his toys and blankets. His family could no longer take care for him, but the dog couldn't understand and the picture of him after being dropped showed how sad and scared he was.
In another story, the Hope for Paws organization went to find a female dog they called Holly and rescue her, the little dog was so scared that she didn't stop shaking and growling all the time. It was evident that she didn't trust anyone.
Please fill in your e-mail so we can share with you our top stories!