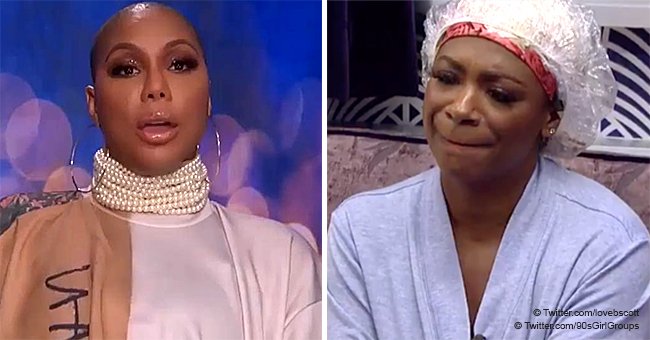 Tamar Braxton reportedly can't stand Kandi Burruss and will vote her off 'Celebrity Big Brother'

The ongoing feud between Tamar Braxton and Kandi Burruss in the "Celebrity Big Brother" house seems to be worsening, and Braxton has revealed she'll be voting Burruss off the show.
The "Braxton Family Values" star conveyed her decision to some of the other housemates in a recent episode. She shared one of the encounters with Burruss that rubbed off on her the wrong way.
"She's fake," Braxton said of the "Real Housewives of Atlanta" star. "She came in here complaining about the workload or whatever. And I'm like 'Ain't this the same thing you do for 'Housewives?' … She was like 'For some reason, everybody wants me to go to the events.'"
Braxton explained that she told Burruss it was a compliment for the show to send her to places because it means she's relevant, but her response only annoyed Braxton.
The "Love And War" singer reenacted a particular sound Burruss made in response to her and did not try to hide that she found it insulting.
Braxton seemed to imply that Burruss' reaction to her remark about being relevant was demeaning but another housemate, former NFL player Ricky Williams, suggested that Burruss wasn't mentally agile enough to make the connection between relevancy and success.
QUICK DECISION
Braxton insisted, however, that she knew the Atlanta Housewife was throwing shade because she grew up with many sisters and knows when a woman is trying to be "catty" with her.
"[Voting her off] is the best for my game it's best for my image, it's best for my life, I'm not having fun, this is not cool," the reality star concluded.
GENESIS OF THE FEUD
Burruss and Braxton earlier admitted that there was some bad blood between them, dating back to a 2017 tour where Braxton was the opening act for Burruss' Xscape group.
According to the "RHOA" star, Braxton invited some other artists on stage who had said some negative things about her in the past and Burruss did not appreciate that.
While Braxton's feud with her co-star also stems from the same tour, the former TV host had a very different recollection of things.
TEMPERS FLARING
During their early days in the "Big Brother" House when Burruss was looking for an ally, she approached Braxton, the only housemate she knew outside the show.
"I never did anything to you, but you always reacted as though I did," Burruss said while trying to figure out their relationship.
Braxton then told Burruss it had to do with her conduct during the 2017 tour.
"I feel like you made comments on things you didn't know about and shouldn't have gotten in between of. Especially when you didn't know my side," Braxton revealed.
She was having troubles in her marriage at the time, and Burruss allegedly made some not-so-nice comments about Braxton's estranged husband Vince Herbert and her music career.
Looking confused, Burruss laughed a couple of times during the exchange, causing everything to go downhill.
The relationship between both women have been strained since then, and with Braxton's latest admission, it looks like things are only just steaming up.
Please fill in your e-mail so we can share with you our top stories!