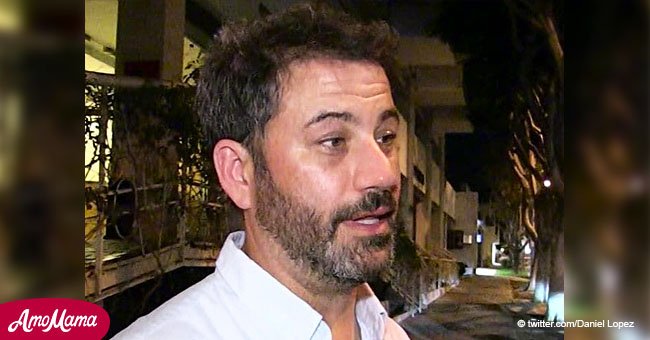 Details on arrest made in Jimmy Kimmel's home after police received explosives threat

Police swarmed Jimmy Kimmel's beach house in Hermosa Beach after they received threats of explosives from an alleged resident.
The Hermosa Beach house is not Jimmy Kimmel's primary residence, and neither he nor his family was at the house at the time of the incident.
While the details were unclear at first, it appears as though authorities had reason to believe the current resident was a danger to himself or neighbors.
As initially reported by TMZ, they received a call from a "male" at the residence who claimed he had explosives and had harmed his girlfriend.
The officers evacuated neighboring homes as a precaution and tried in vain for more than seven hours to make contact with the resident.
After an 8-hour standoff, they arrested Kimmel's friend, chef and best-selling author, Adam Perry Lang, who was staying at the house over the weekend.
He was in the house at the time of the commotion but was asleep, and his ringer was off. When he woke up, he gave his full cooperation and went to the station willingly.
Lang was charged with "criminal threats." It was later revealed that Perry had not placed the call. Kimmel bailed him out the following day, and the charges were dropped.
Authorities searched Kimmel's home and found no traces of explosives or weapons. They confirmed that no one was injured during the incident.
Neither Kimmel nor his representatives have released a statement as yet. He did continue with his show the following day without mentioning the incident.
However, Kimmel caused an uproar among Trump's fans when he discussed the Government shutdown and Trump's determination for a border wall.
This is not the first time Kimmel took a swipe at the President. In fact, it takes up a significant portion of screentime on the "Jimmy Kimmel Live" show.
One user, Larry Dickman, said Trump is consuming Kimmel's show and wanted to know if the show's writers are "just stuck in a rut."
Another user said Kimmel was not being objective about the President and added that Kimmel "could learn something from that."
A third user said the real problem here is mainstream media, while another user, Ryan Boyle, added: "You've had problems way before Trump or Fox News, Jimbo."
Please fill in your e-mail so we can share with you our top stories!